Smart Sensors and Noise Cancellation
Every control is well thought out and conveniently positioned, and Plantronics has carried over a number of useful features from its other Bluetooth headsets. Voice prompts help guide you through the controls (there are 14 languages to choose from), and smart sensors inside the headphones recognise when you put them on or take them off.
Using this tech, the BackBeat Pro will pause music when the headphones are removed, or transfer an active call back to your mobile phone. Put them back on and the music picks up where it left off. We found the sensors worked very well in practise, but anyone who prefers to keep manual control can disable the smart system by holding the call button for four seconds.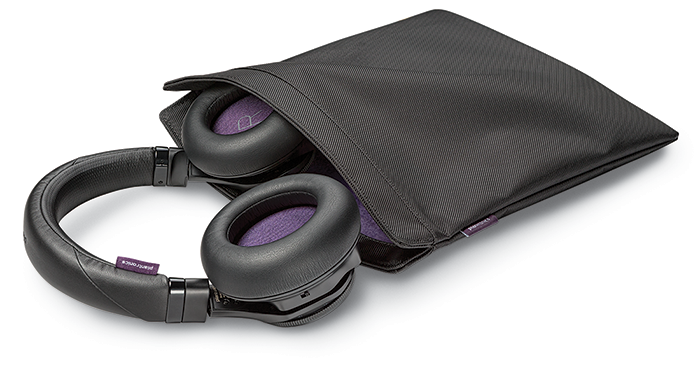 The feature set is what makes BackBeat Pro a versatile headset, and convincing active noise cancellation makes them well suited to travel. Using a pair of microphones on the outside of the headset, it's very effective at cutting out unwanted background noise, and particularly adept at minimising the drone of an aircraft. Bose owners will tell you there's nothing better than a pair of QuietComforts, but in our estimation BackBeat Pro is just as effective at creating a zen-like environment.
All sounds promising, but wireless with active noise cancellation surely means limited range and poor battery life, right? Nope, not necessarily. Using Bluetooth 4.0, the BackBeat Pro has a range of up to 100 metres when connected to a class one device - note that most current consumer mobile devices are class two, and are therefore limited to shorter distances - while the integrated battery is good for up to 24 hours of wireless streaming. During real-world use, we donned the headphones on a long-haul journey from London to Melbourne and still had four out of five bars of battery life on arrival. This certainly isn't a gadget you'll need to charge daily.
Sound Quality and Final Thoughts
Having all the aforementioned gizmos add to the BackBeat Pro's appeal, yet they don't detract from the fact that these are a great-sounding set of headphones.
Not the best we've heard, mind, but very, very good with a strong punch of bass and energetic treble that delivers good clarity at the high end. Well suited to a variety of content, we thoroughly enjoyed listening to everything from classic rock to modern pop, and the headphones were able to highlight the finer details in instrumentals. The hair-raising Interstellar soundtrack came across as mighty impressive.
What's somewhat unusual is that the headphones do sound subtly different depending on how you use them. Turn on the power and treble is further accentuated, giving the output a more animated feel. Similarly, activating noise cancellation results in another small change in direction, with the sound output taking on a murkier tone. Our media still sounded great in either mode, however the small-but-noticeable variation may be off-putting to the most discerning audiophiles.
Bottom line: Though not the prettiest headphones on the market, Plantronics' BackBeat Pro offer comfort, great sound quality, convincing noise cancellation and an abundance of useful features. Recommend to any frequent flyer.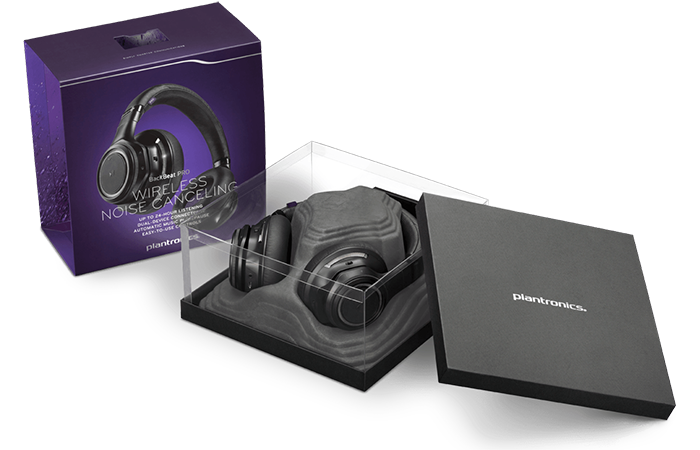 The Good

The Bad

Great sound quality
Good noise cancellation
OpenMic is a nifty tool
Smart sensors work well
Excellent battery life

Not the prettiest headphones
Fairly heavy at 340 grams
HEXUS.awards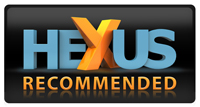 Plantronics Backbeat Pro
HEXUS.where2buy
The Plantronics Backbeat Pro wireless noise-cancelling headphones are available to purchase from Amazon UK and Overclockers UK.
HEXUS.right2reply
At HEXUS, we invite the companies whose products we test to comment on our articles. If any company representatives for the products reviewed choose to respond, we'll publish their commentary here verbatim.