The drivers
Completing the stylish look, Altec Lansing's pair of satellite speakers are brilliantly made to look like miniature versions of the subwoofer stood on their sides. It's a clever design statement, and one that doesn't go unnoticed.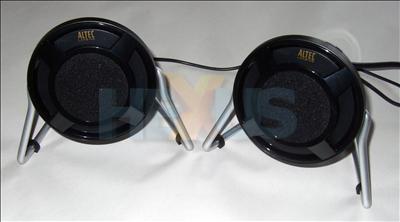 Each speaker touts 2in "full-range" drivers offering 4 watts of power apiece, and at 131mm x 107mm x 124mm, they're notably small. Housed on adjustable silver stands, they're designed to let users "direct the sound" straight to the ears.
In terms of cabling, it's a familiar 2.1 setup - both speakers are hard-wired to one another, and a second cable runs from the right speaker to the subwoofer. We found the length of Altec Lansing's pre-attached cables to be adequate, but the bundled 3.5mm audio cable is a little short and forces users to keep the sub within arm's reach of the PC or source.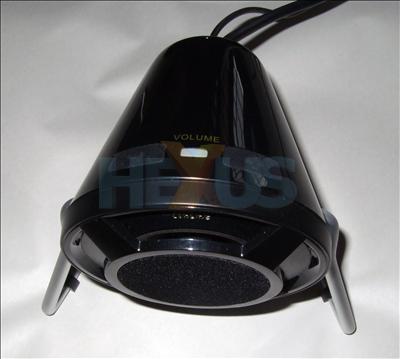 On top of the right-hand speaker, users will find a power light and volume adjustment buttons. Although we appreciate easy-to-reach volume controls, Altec Lansing's buttons aren't as easy to press as we'd like. We found ourselves having to hold the speaker in one hand whilst adjusting volume with the other. Making matters worse, there's no indicator of volume level - so you'll be left second guessing just how high the current setting is. Given a choice, we'd take a traditional rotating dial any day of the week.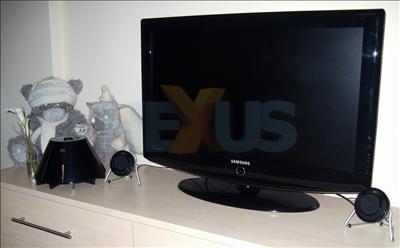 Put the entire kit together, and you've an impressive-looking solution (pictured above alongside a 32in Samsung LCD).
But we did notice a few immediate problems. The Expressionist PLUS is designed such that the subwoofer can be housed on top of a desk, and though it has the looks to be put out on display, its 263mm diameter occupies a fair chunk of desktop real estate. Couple that with the two satellite speakers, and it quickly becomes a cluttered solution.
The alternative for PC users, of course, is to put the subwoofer in its traditional spot - on the floor beneath the desk. Although that's an option, you'll need to remember that the power button is housed on the subwoofer itself, and you'll want that to be within reach.
Minor qualms, but worth noting if you're particular about your desktop arrangement. And, for those who put a clutter-free environment above all else, the Expressionist PLUS clearly isn't as streamlined as a 2.0 solution. Despite Altec Lansing's compact approach, we found the older Expressionist BASS to be a neater offering.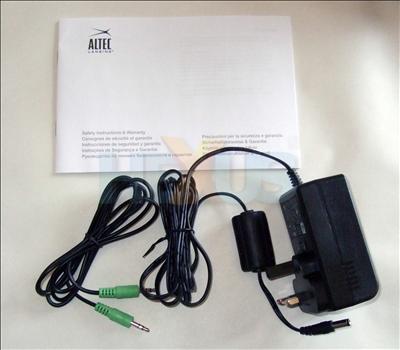 Just the essentials in Altec Lansing's bundle; a 3.5mm audio cable, power adapter and user guide.
We've had a look, let's have a listen.