The subwoofer
As with the Expressionist BASS, Altec Lansing's Expressionist PLUS arrives in fairly rudimentary packaging. Then again, it's square, small enough to easily carry, nicely styled with clean colours and crisp fonts, and it details the system's complete specification - along with the specifics of Altec Lansing's limited two-year warranty. What more do you really need?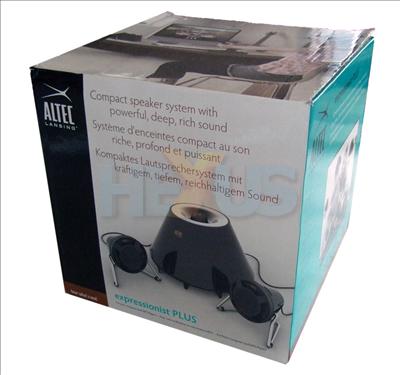 Open it up, and you get access to the goodies inside - the highlight of which is the 263mm (Diameter) x 156mm (H) subwoofer.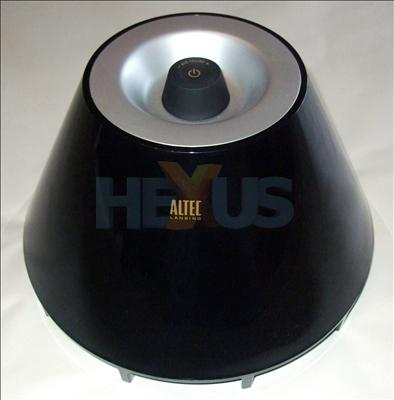 Altec Lansing's sub offers 25 watts of power, but its shape and style are what first becomes apparent. The cone-shaped unit features a bottom-loaded subwoofer that sports a 5.25in driver, and it's a visual treat thanks to its black-gloss finish and black acrylic feet.
Unlike the powerful-but-uncontrollable subs found within the Expressionist BASS, Altec Lansing's Expressionist PLUS features a large, easy-to-use power-control dial that also doubles as an on/off button. As a result, controlling subwoofer volume is as simple as it gets, and tweaks to find the right balance can be made easily.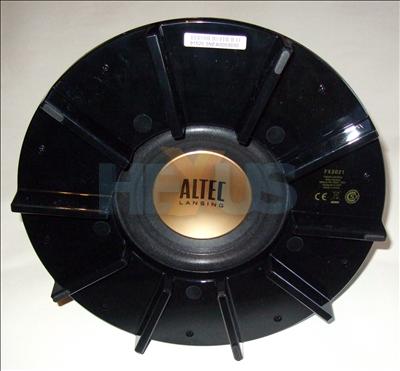 A look at the unit's down-firing subwoofer - note that the acrylic feet allow for air to escape.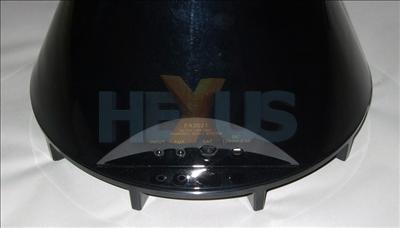 Around the back are the unit's connectivity options - comprising of a primary input, an auxiliary input, a mini-DIN connector for the two satellite speakers, and power input.