As many expected, Apple has launched a new iPhone which basically employs the chassis of the iPhone 5(S) but uses the core hardware specs from the newest iPhone 6S models. The Apple iPhone SE is the name of the new device rocking the compact 4-inch form factor, which many find so hand-and-pocket-friendly. Apple snappily subheadlines the new phone as "a big step for small".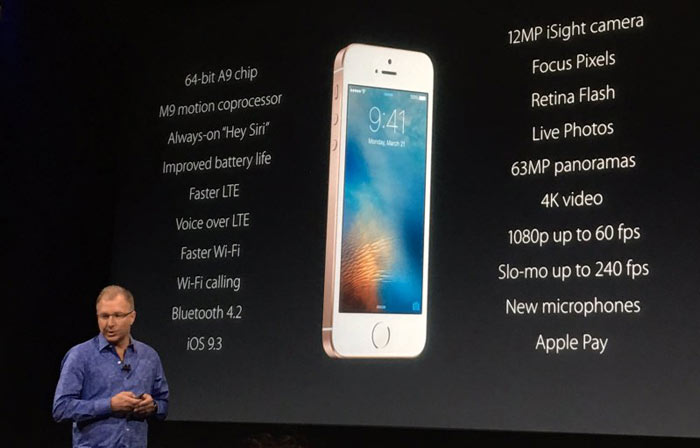 The slide above provides almost all you need to know about the iPhone SE, the only gap in that spec list concerns screen specifications such as pixel resolution and screen type. Luckily Apple has now published the official product page and we can see the official specs page too; the screen offers 326ppi and a pixels resolution of 1136 x 640 with 800:1 contrast ratio and 500 cd/m2 max brightness, plus support for the full sRGB standard.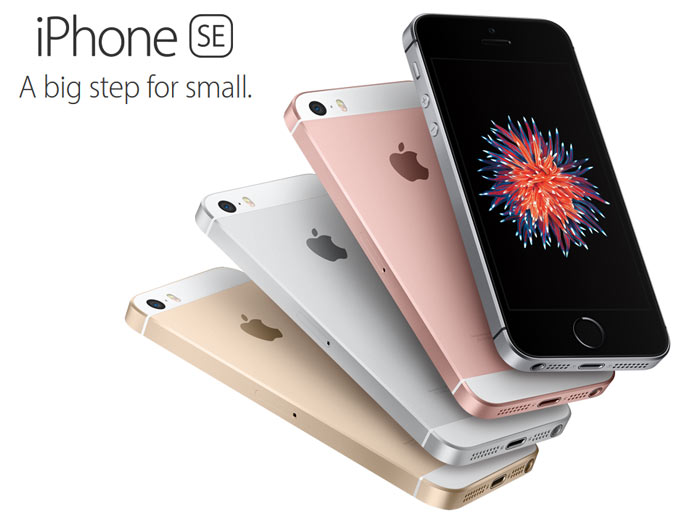 This smartphone will launch with iOS 9.3, also announced just today and available straight away, so it is good that it will use Apple's latest and greatest mobile phone processor. It employs the 64-bit Apple A9 SoC with M9 motion coprocessor and is said to offer twice the CPU performance and triple the GPU performance of the iPhone 5S. The new SoC also supports always on Siri command availability.
Other key improvements over the existing 4-inch option are the improved battery life, improved microphones, and faster connectivity – the LTE can connect at up to 150Mbps. Apple Pay works with the new smartphone with its Touch ID fingerprint reader and NFC required.
As well as the extra speed on offer, in processing and connectivity terms, the new 113g iPhone SE offers a great boost for the many who enjoy taking photos with their iDevice. Apple boasts that, having the same iSight camera unit as the iPhone 6S models, this smartphone is equipped with "the only camera you'll ever need". It's main camera is a 12MP f/2.2 image stabilised snapper, with True Tone flash, capable of shooting 4K video and works with Apple's Live Photo software. Round the front the iPhone SE offers a FaceTime HD camera (1.2MP) with Retina flash.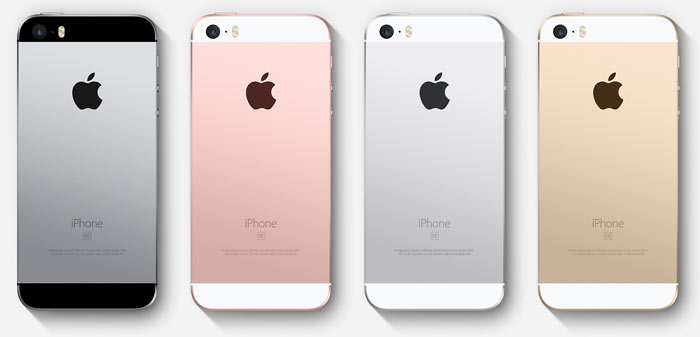 Those interested can pre-order from 24th March, with the device available from 31st March. Availability will span 100 countries by the end of May, Apple said. This new smartphone will be priced at $399 for a 16GB device, or $499 for a version with 64GB of storage - useful if you are going to take quite a lot of photos and any amount of videos. The $399 entry level iPhone SE is the cheapest ever iPhone at launch. Apple's latest 4-incher comes in the four iPhone 6S aluminium finishes; silver, black, gold and rose gold, as pictured directly above.