Rumours of an upcoming Apple iPhone 6c were misplaced according to 9-to-5 Mac. Sources speaking to the site said that Apple was indeed preparing a smaller iPhone model but it wouldn't be part of the 6 series. What Apple is preparing will be marketed as the iPhone 5se. The 'se' suffix could stand for 'special edition' or represent an 'iPhone 5s enhanced'.
Looking through the purported specs in the reports of the upcoming iPhone 5se, codenamed N96, we gather the following:
Display: 4.7-inches, likely with a 1136×640 resolution with Apple using existing parts, no Force-Touch
Processors: Apple A8 SoC, M8 motion coprocessor and barometer
Cameras: the same 8 megapixel rear camera and 1.2 megapixel front camera systems from the iPhone 6 (non s) model
Photography: Live Photos from the iPhone 6s plus support for larger panoramas and autofocus for video recording
Connectivity: Bluetooth 4.2, VoLTE, and 802.11ac Wi-Fi chips from the iPhone 6s, plus an NFC chip to facilitate Apple Pay
Design: The iPhone 5's chamfered, shiny edges have been replaced with curved glass like on the iPhone 6 and 6s lines and the phone will be made available in Silver, Space Gray, Gold, and Rose Gold. There is said to be a standard mini headphone jack in place, something thought to be missing from iPhone 7 models.
9-to-5 Mac suggests that the 5se will replace the currently available iPhone 5s at the same price point without upsetting sales of iPhone 6s models. The new model 'budget' iPhone is said to be currently in production. As mentioned in the headline, Apple is targeting a late March or early April release date.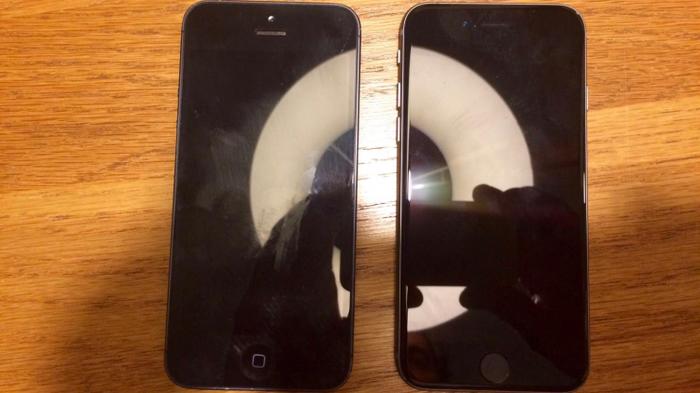 A few hours ago a purported leaked photo of the upcoming iPhone 5se turned up on what 9-to-5 Mac describes as a credible site with a decent track record for such things. In the picture, embedded above, you can see an iPhone 5 on the left with the new model 5se on the right. It shows rounded volume toggles and a relocated sleep switch like on the iPhone 6 models.