It looks like Google has not learnt from its past experiences of underestimating the popularity of its Nexus devices. The company's recently announced flagship Nexus 6 smartphone went up for pre-orders yesterday and managed to sell out in just minutes, reports Pocket-lint.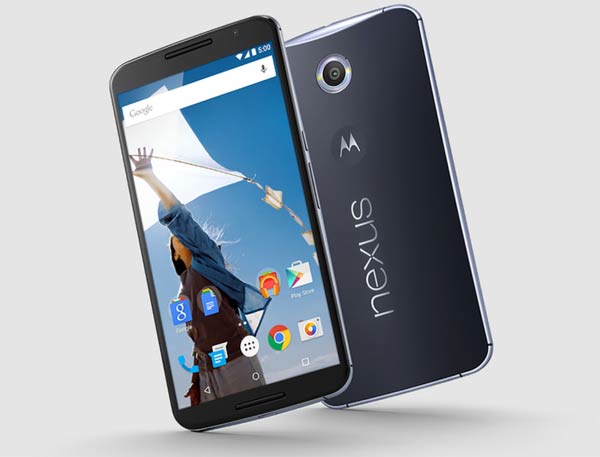 The Motorola-made smartphone was unveiled two weeks ago. It is to be one of the first devices to run Android Lollipop, the latest version of Google's mobile operating system, out of the box. It features a 5.9-inch display, quad-core Snapdragon 805 CPU, 3GB of RAM, dual front speakers, a 13MP camera, a large 3,220mAh battery, battery Turbo Charging capabilities, among its impressive specs. Priced at $649 for the 32GB model and $699 for the 64GB model, it is pricy compared to previous Nexus smartphones which were positioned as powerful devices with mid-range price tags.
Vanished from the shopping cart before the order was confirmed
The handset was made available for pre-order starting yesterday, but it is unclear that whether it is due to poor forecasting or extremely high demand that the device sold out so quickly. Besides a few lucky people who somehow managed to register their orders, many complained that the device vanished from their cart before they could confirm the order. Those based in the US who were quick enough to purchase the device from the Play Store will be given a free Google Play Music subscription for 6 months. If you can also grab one of these smartphones before the year's end you will also be able to benefit from this promotion.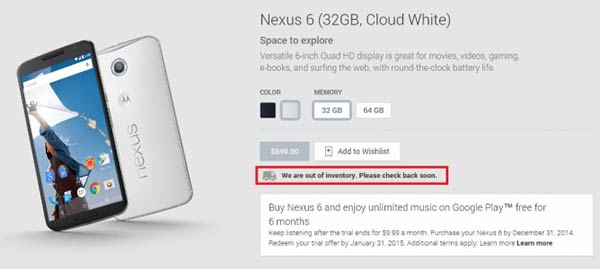 Google has yet to announce when it will start taking orders for the Nexus 6 again (see highlight above), but it is worth noting that US based carriers will be offering the device at subsidised prices with service contracts. The device is not yet listed in the UK Play Store but let's hope Google doesn't repeat itself with a lack of inventory when launching the device over here and in other countries.