Heavily overshadowed by the launch of the new iPhone 5, yet sharing the same stage, the unveiling of the new range of iPods took place last night. Though sales of the iPod range are in decline these products are still profitable for Apple and worthy of updates and development. It's been around two years since the last refresh to the range, that's a long time in tech.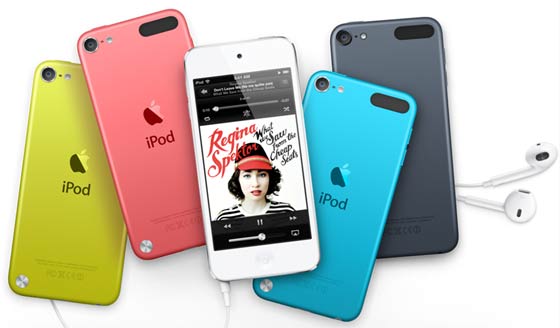 iPod Touch (from £249)
This iPod takes a lot of the new tech from the iPhone 5 and puts it into a dedicated media player. Not needing all the phone guts has benefits and it is therefore even thinner and lighter than the iPhone 5. The new iPod Touch uses the new iPhone 5 screen; a 4-inch, 1,136-by-640-pixel Retina display. It has the new lightning connector too. However the processor is the same as in the old iPhone 4S; a dual core A5. This portable media player is equipped with a 5 megapixel camera. It runs iOS 6 and is available in 32 and 64GB configurations.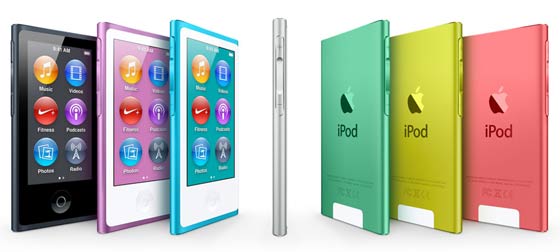 iPod Nano (£129)
The new model throws out the old squareness and is rectangularly enhanced. It's completely renanoed with a 2.5 inch 240x432 pixel multi-touch display which offers almost twice the area of the previous generation Nano. That's much better for watching videos and finger jiggery-pokery. The Nano remains very portable and is sized at 76.5x39.6x5.4mm. It's just 31 grams. The new iPod Nano is Bluetooth equipped and features an FM tuner and pedometer. The battery last up to 30 hours for music playback but a skimpy 3.5 hours for video. All Nanos are now equipped with 16GB of storage.

iPod Shuffle (£40)
Looks much the same as the previous iteration but is available in more colours.
iPod classic (£199)
This is unchanged. It's a very popular device with people who insist on carrying around a bumper music and video collection, thanks to the built-in 160GB HDD storage. The 320x240 screen isn't touch sensitive, the player operates via Apple's clickwheel interface. This is the only device that doesn't come with the new EarPods...
EarPods (£25)
Just like the new iPhone 5 all the new updated iPods come with EarPods in the box. These are supposed to be a significant quality step up from the previous default Apple ear buds. Apple says "The audio quality is so superior, they rival high-end headphones that cost hundreds of pounds more." The new EarPod design is also supposed to be more comfortable for a variety of ears.
More info on the individual iPod models can be found via the Apple UK iPod web page. I just use my smartphone for MP3 and online radio playback...