In 2006 Apple lost a patent infringement lawsuit initiated by Singapore based Creative Technology. Creative are mainly famous for their PC soundcards (and strategy of "driver obsolescence") but at this time the company was one of the pioneer manufacturers of portable MP3 players. After the lawsuit Steve Jobs reportedly gathered his senior managers and declared "we're going to patent it all". From that time on, just before the launch of the first iPhone, Apple's internal corporate strategy has evolved. Now it has been revealed that Apple spends more money on patent activity than on R&D.
Creative submitted a patent, to the US patent office in 2001, describing a portable media player user interface. It is this patent, awarded in 2005, which barbed Apple and its fledgling iPod media player. After this painful 100 million dollar fine Jobs decided to patent absolutely everything the company came up. You can see Mr Jobs showing off the first iPhone, in the Macworld 2007 presentation below. He ends a section describing the interface of the new smartphone with the phrase "And boy, have we patented it!"
Nancy R. Heinen, Apple's general counsel at the time this all happened, said Steve Jobs' "attitude was that if someone at Apple can dream it up, then we should apply for a patent". Shortly after this time Apple engineers had to take part in monthly patent sessions with lawyers making sure all their inventive thoughts and aspirations got a patent applied to them. Ms Heinen added that "Even if we knew it wouldn't get approved, we would file the application anyway," she continued to explain, "if nothing else, it prevents another company from trying to patent the idea."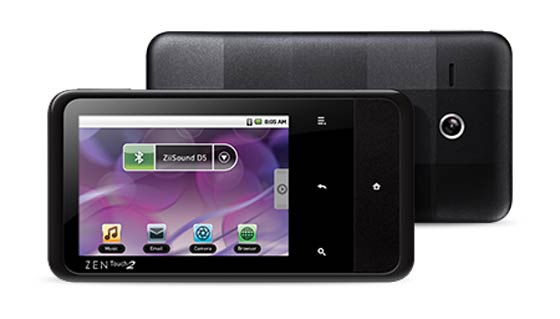 The contemporary Creative Zen Touch 2 media player uses the Google Android OS

In the last decade Apple has been granted more than 4,000 patents and taken part in many fierce and protracted patent battles. How might things have been different if Creative had lost the patent case in 2006?