The UK's first Freeview HD-compatible set-top box has arrived at retail in the form of the Humax HD-FOX T2.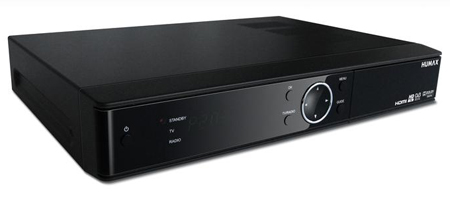 Humax's receiver, pictured above, went on sale on Saturday February 13th at an exclusive launch at the flagship John Lewis store on Oxford Street in London. It is now available from a wide variety of both online-and-offline retailers priced at £179.99, with availability slated for Monday February 22nd.
The HD-FOX T2 is the first receiver equipped with a DVB-T2 tuner, allowing the set-top box to receive Freeview HD broadcasts - the first of which began late in 2009 in Crystal Palace, South East London and Winter Hill, Lancashire. Humax's box introduces a new eight-day electronic programming guide (EPG) and supports resolutions of up to 1080p over HDMI, with the ability to upscale standard-definition content.
Scart sockets for TV and VCR connections are also available, as is a USB port for media (MP3, JPEG and XViD) playback from an external storage device, and Ethernet for PC streaming functionality.
In addition to the regular line up of Freeview channels, the Humax HD-FOX T2 is able to receive two already-available high-definition broadcasts; BBC HD and ITV HD. A third channel, 4HD, is scheduled to become available in the very near future, followed by a fourth, Five HD, later this year.
Freeview HD is expected to become available to 50 per cent of the UK population by June 2010. To find out when Freeview HD will be available in your region, please refer to our earlier article; Freeview coverage checker reveals when Freeview HD is coming to you.