British telecoms operator Ofcom has revealed the state of broadband and mobile network coverage across the UK, revealing some very interesting stats about data usage and connection speeds.

Released in the form of an interactive map and series of downloadable pdf files, the report includes mobile network coverage and detailed information, split by local authority, on the availability of broadband across the country and shows average broadband speeds, the availability of super-fast broadband connections and areas where connections are operating at less than 2Mbit/s

"Broadband is now available on nearly every copper telephone line in the UK, however 14% of residential broadband connections are currently operating below the 2Mbit/s speed that government wishes to make available to virtually all homes by 2015," reads the Ofcom report.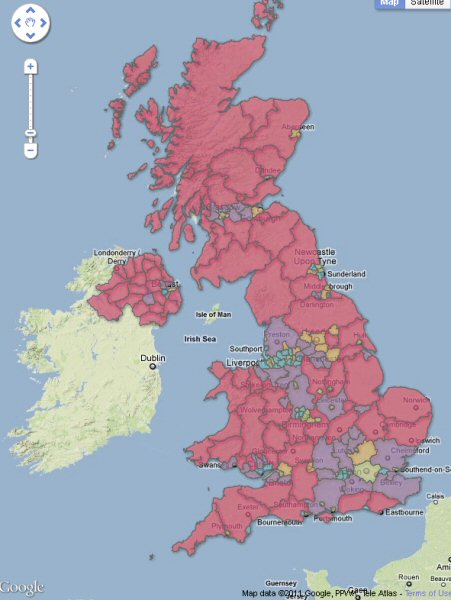 Pink areas indicate where 3G has availability of less than 25%



The report reveals that British residential broadband users download 17 gigabytes of data a month and 58 percent of connections are operating at high speeds of 24Mbit/s.

"These figures suggest that our broadband lines are fast replacing the airwaves as the primary way we receive TV and radio,' said Ernest Doku, technology expert at uSwitch.com.

ThinkBroadband has pulled some interesting stats from the report:

• Highest average sync speed - City of Edinburgh - 10.1Mbps
• Lowest average sync speed - Fermanagh - 4.3Mbps
• Highest percentage receiving less than 2Mbit/s - Cookstown - 35.9%
• Lowest percentage receiving less than 2Mbit/s - City of Edinburgh, City of Bristol - 4.5%
• Highest super-fast broadband availability - Luton, Newtownabbey - 100%
• Highest broadband take-up - City of Brighton and Hove - 80%
• Lowest broadband take-up - Na H-Eileanan an Iar (Western Isles) - 46%

Ofcom's findings also detail mobile network coverage, revealing that only 13 percent of Britain is covered by 3G. Coverage in rural areas tends to be worse than in urban areas, but Ofcom reports that "analysis indicates that operators are often deploying more infrastructure per capita to serve rural users –highlighting the challenges of extending network coverage."

For the full report, which also includes digital TV reception and digital radio reception coverage, check out the official Ofcom website.