We've seen phones with dual-sim capability before, but they're few and far between and aren't readily available. We're hoping that'll change with the Glofiish DX900, which we caught out in the open at COMPUTEX '08.
It'll allow users to insert two SIMs at once, and provides dual stand-by and dual-talk functionality. Gone are the days of carrying around multiple phones.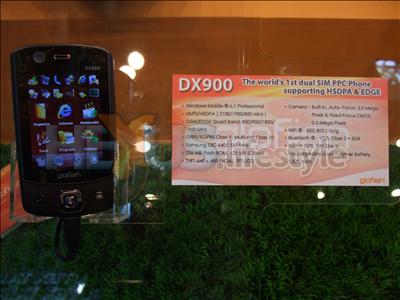 The handset, pictured above, runs Windows Mobile 6.1 Professional and supports HSDPA and EDGE - Glofiish claims this to be the first dual-sim handset to do so. The device is powered by a Samsung S3C processor running at 533MHz and memory comes in the form of 256MiB Flash ROM and 128MiB SDRAM.
The touchscreen is a 2.8in TFT-LCD, with 640x480 resolution and there's a 3 megapixel auto-focus camera on the rear, as well as a 0.3 megapixel camera on the front. Throw in Wi-Fi, Bluetooth, GPS and a very smooth interface, and you've got a rather tasty handset.
It measures in at 106 x 60.5 x 17mm and weighs 147g. Unfortunately, we don't yet have a release date or price.