Launching in Europe this May for roughly €1,000
The ASUS Lamborghini range isn't for the faint-hearted. The company's established Lamborghini laptops are geared to petrol-loving enthusiasts and sell for prices that would make most Vauxhall drivers whimper.
So, it comes as no surprise that the forthcoming ASUS Lamborghini ZX1 mobile phone will cost around €1,000 when it launches this May in Europe.
The ZX1, pictured below, features Windows Mobile 6.1. ASUS is busy applying the finishing touches to a new user interface for the ZX1 and other upcoming handsets. Unfortunately, as with all Windows Mobile themes and skins, it'll simply cover up a largely cumbersome operating system.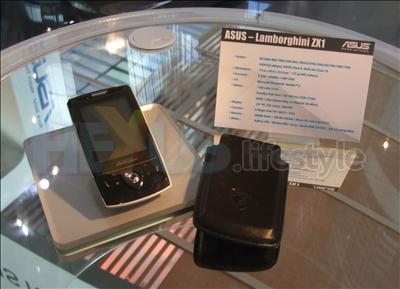 The phone provides HSDPA; built-in GPS; a 2.8in, 240x320 TFT screen; and 256MiB of Flash memory. Not exactly mind blowing but it does say Lamborghini on the front and has the same sharp engines you'd expect to find on a Murciélago [Editor's note - the phone does not have an engine!].
Though CeBIT doesn't officially start until tomorrow, we managed to get a little hands-on time and immediately found a few things to moan about. Most importantly, the ZX1 just doesn't give you the thrill you'd hope for when you've a Lamborghini in your hands. Maybe a bright-yellow paint job would help?
Second, the phone's main navigation tool, a circle placed inside a Lamborghini triangle, is overly awkward to use. It's round but it doesn't feel that way. It's hard to explain, so just imagine a Skoda steering wheel in a Gallardo - that's right, just plain awkward.
Still, if you've a lot of money to spare and, preferably, a real Lambo on the driveway, the ZX1 may appeal big-time - it can be yours in May. And, if you really want to flash the cash, there will be an abundance of accessories. Below are just a few that ASUS had on show today.