HTC and Valve have used the MWC 2016 to launch the consumer edition of the Vive virtual reality system. The Steam VR powered system will become available for pre-order worldwide starting from Monday 29th February at 10am EST. Full commercial availability and shipments of pre-orders are scheduled for early April. We also heard about the price; at $799 the Vive is $200 more than the Oculus Rift.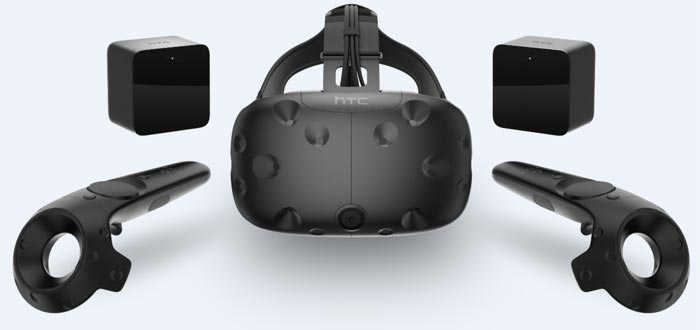 For this consumer edition unveiling there were a couple of last minute adjustments to the hardware. It offers an updated head strap, refreshed branding and integrated phone functionality - so you can receive and respond to both incoming and missed calls, get text messages and send quick replies and check upcoming calendar invites directly through the headset.
Some might be put off by the headline price of the HTC Vive. At $799 its $200 more than its main rival - the Oculus Rift - the pricing of which had already left many of those interested agog. However the HTC produced system has the potential for a better experience with the built-in front camera system which lets users see around them, with VR content mixed into reality, at the click of a button. It must also be remembered that HTC provides a pair of wireless controllers, offers 360 degree tracking and room scale movement sensors. To sweeten the deal further HTC is including "two fully-fledged VR experiences to get you started in the virtual world". These are Job Simulator, by Owlchemy Labs, and Fantastic Contraption, by Northway Games (see video below).
Partnering with Valve and being the official Steam VR device should give HTC a further advantage of being the default of choice for users of that popular platform. However HTC wants to stress that the Vive isn't limited to gaming and can be useful and applied to entertainment, retail, education, design, healthcare and automotive industries.
HTC's new smartphones
This being MWC, HTC also has launched a trio of new smartphones. However the Taiwanese firm isn't launching a flagship at this time, these are three mid-range Desire family devices. The HTC Desire 530, HTC Desire 630 and HTC Desire 825 all run Android Marshmallow and feature a micro-splash effect, like paint spatter over different block colours. The specs range from the Desire 530 with 5-inch HD screen, Snapdragon 210 SoC, 1.5GB of RAM, and 8MP main camera, up to the 5.5-inch Desire 825 with a Snapdragon 400 processor, 2GB of RAM and a 13MP main camera. These phones should be available from March onwards.