LG will be showing off a 'production ready' 98-inch 8K Super UHD TV at CES this week. The stunning TV is based upon an IPS screen with LG True Black and Contrast Maximiser tech in play. This headliner is among several new TV offerings from the firm. Other interesting exhibits will include the usual collection of prototype uses for innovative display technology; the most interesting is perhaps the rollable 18-inch OLED 'newspaper' device.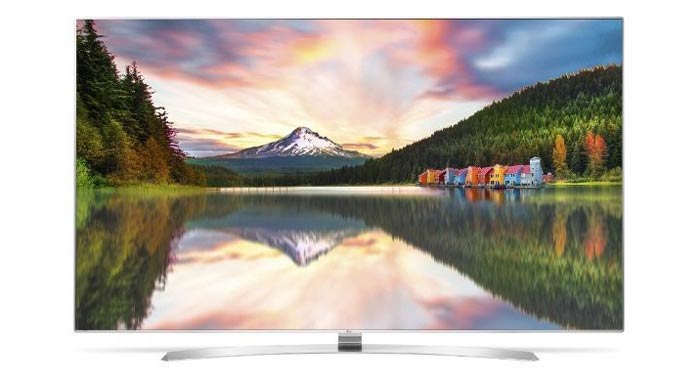 Headlining LG's new offerings at CES 2016 will be the first production-ready 98-inch 8K Super UHD TV, dubbed the LG UH9800. The UH9800 sits atop of a range of new Super UHD TVs which includes more modest 4K TVs, all of the sets feature higher dynamic range imagery via HDR Plus technology.
LG's Super UHD TV range with 4K screens include the high-end 86-inch UH9550, 65-inch UH9500 - both featuring IPS panels with LG's True Black Panel and Contrast Maximizer technology. They are equipped with HDR Plus to provide HDR-like imagery even if the source doesn't provide such image data. The larger UH9500 has an ultra-thin 6.6mm screen depth with "near invisible bezels" and its visuals are complemented by Harman-Kardon sound.
Lower down the range, LG is offering the 75-inch UH8550 and 65-inch UH8500. These still provide HDR Plus and use 'Billion Rich Colors' tech offering 10-bit panels with 10-bit processing.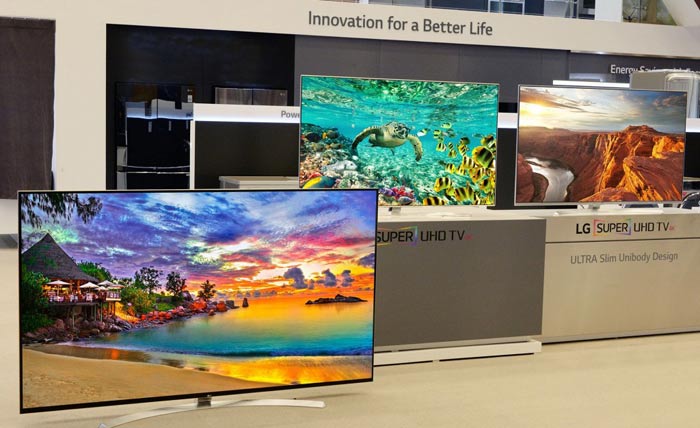 LG hasn't mentioned any new OLED TVs in this press release but an executive said that LG was following a dual strategy and would continue to offer both IPS and OLED TVs without prioritising one over the other. The decision is probably due to the price points from using either technology addressing different parts of the market - and LG's OLED factory which will some heft behind OLED screen production won't be pumping out displays until sometime in 2018.
Elsewhere in LG's CES2016 showcase are some prototypes, evidence of the firm's technological prowess. SlashGear reports that LG will be demonstrating the following screen tech; the 30R 18-inch rollable OLED 'newspaper' screen, a 25-inch 'waterfall' screen which will hug the contours of an automobile central control console, ultra-sensitive touch displays, and Advanced In-Cell Touch (AIT) technology for laptop displays.