Compro launches new USB DVB-T and standalone TV tuners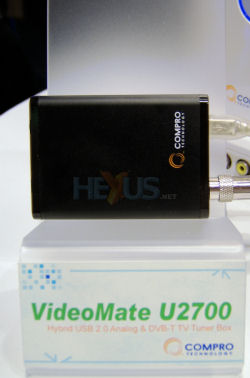 Compro's launching a new USB-based DVB-T tuner. It's a hybrid digital (MPEG-2) and analogue (MPEG-1/2/4) tuner that features funky Picture-In-Picture and Picture-On-Picture modes. You can also view streams on your desktop

It's small enough to throw into your laptop bag and the picture quality from a high-quality signal was excellent. It supports all the usual features suck as EPG (Electronic Program Guide) and teletext.

Another interesting item was the company's VideoMate V550.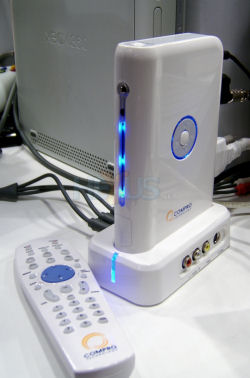 This box of tricks, which we previewed a few days' back, allows you to watch analogue video without driver installation. Simply plug it into your TV/LCD (inc. widescreen support) and away you go. It supports UXGA (1600x1200) resolution and advanced 2D/3D Y/C separation for a clear, crisp picture. We saw the visual difference between standard processing and Compro's advanced picture-enhancement firsthand, and can confirm that it's rather good. Connectivity-wise, the V550 supports component, S-Video, and composite video inputs. There's no monitor pass-through, unfortunately.

The stylish design, as you can see from the console behind, is somewhat taken from the Xbox 360, from which the signal was outputted.

The U2700 is available now and the V550 will start shipping in August, according to Compro's representatives.