Compro Technology has introduced its latest TV tuner card solution in the form of the VideoMate S800F.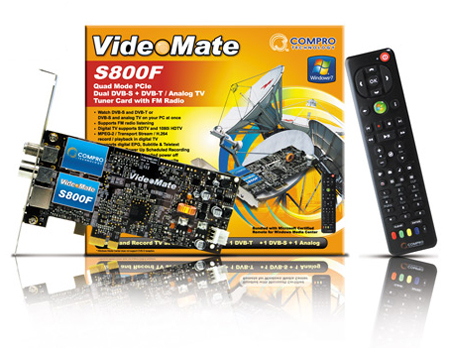 The quad-mode card, pictured above, features both a DVB-S and a hybrid DVB-T/Analog tuner to allow for a choice of viewing options; including the ability to watch and record DVB-S (satellite) and DVB-T (Freeview) broadcasts simultaneously, or DVB-S and Analog.
Designed for use with 32-bit or 64-bit versions of Microsoft's Windows Vista and Windows 7 operating systems, the card comes bundled with an "ergonomic design" Microsoft-certified Windows Media Center remote control.
Compro's own TV software suite - Compro DTV 4 - is also included as part of the bundle, as is DVD authoring package Corel DVD MovieFactory 5 SE.
The VideoMate S800F makes use of a low-profile design and slots into a standard PCIe x1 slot. The card supports S4/S3 mode Power Up Scheduled Recording, as well as digital EPGs, subtitles, Teletext, and FM Radio.
We'd liked to have seen a DVB-T2 tuner thrown into the mix, but if you've come to discover that Freeview HD isn't coming to an area near you anytime soon, Compro's VideoMate S800F looks a solid interim solution. No word on pricing as yet, but the card should be making its way into the UK marketplace as of today.
Press release: Play TV with Compro VideoMate S800F