Ultra-high capacity Blu-ray discs have been sneaking out of R&D labs for some time now, but so far none have made it into consumer hands. This is all about to change though, as both Sharp and TDK have announced that they will soon be releasing 100GB BDXL discs.
The Blu-ray Disc Association finalised the new spec last month, and it clearly hasn't taken long for manufacturers to get their products ready. Sharp announced last week that it would be releasing 100GB, triple-layer BD-R discs in Japan on July 30 capable of up to 4x recording. This week TDK has revealed that its own 100GB BD-R discs will be available about a month later, on September 3.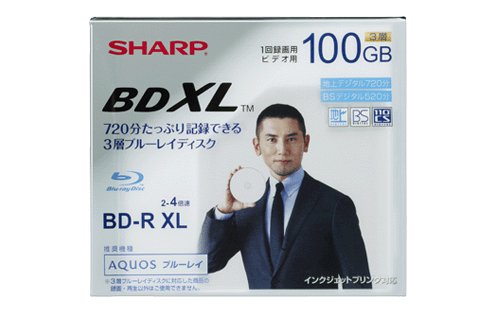 The BDXL specification allows for up to 33.4GB per layer, spread across up to four layers. This is compared to 25GB per layer and a maximum of two layers on current discs. However, no companies have announced full-capacity 128GB media just yet.
Unfortunately, though, the new format isn't compatible with existing Blu-ray players. While BDXL players are backward-compatible with standard Blu-ray discs, older players cannot read the newer format. Even though the wavelength used to read the data remains the same, it seems that even a firmware update won't be able to bring older players in line with the specification. This is probably because of the increased number of layers in the new discs or the smaller mark-length used.
Of course, this is only really relevant if you live in Japan, as neither company has given any indication of global availability for BDXL players or media yet. As ever though, we expect to be waiting a while to catch up with Japanese consumer electronics. Until then, we'll have to make do with our puny 50GB Blu-ray discs.