3DTVs are a hot topic at this year's CES, but Sharp - whose own 3DTV remains at merely the prototype stage - has bucked the trend by unveiling a technology that could become commonplace in the TVs of tomorrow.
Dubbed QuadPixel technology, Sharp's latest innovation adds yellow to the traditional red, green and blue (RGB) spectrum, resulting in TVs that can reproduce up to one trillion colours.
Compare that to around one billion colours in today's sets, and it's clear to see why Sharp reckons RGBY could be the next big thing.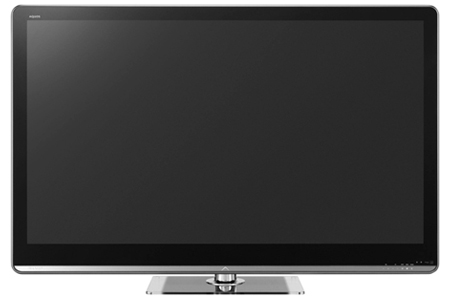 Arriving as part of Sharp's latest line of Aquos LED/LCD TVs - including the 68in LE920 pictured above - QuadPixel technology promises a wider colour gamut and "faithful" reproduction of "nearly all colours that can be discerned by the human eye".
Sharp's on-stage comparison of a QuadPixel-enhanced Aquos TV alongside a previous-gen RGB Aquos TV showed an obvious improvement - with a wide range of colours appearing far more vibrant. We'll have to take Sharp's own demonstration with a pinch of salt, of course, but when an audience collectively gasps at an unveiling, you know you're looking at an impressive set.
It isn't the best-looking set we've seen in terms of aesthetics, it isn't anywhere near as thin as the latest Samsungs, its bezel is relatively thick, and it doesn't even do 3D. But, if it lives up to its promise of "the most natural, accurate colour", it could be the screen of choice for videophiles.
Interested? Expect to see a 40in model priced at $1,799 and a 60in offering priced at $3,999. There's no mention of pricing or availability for the range topping 68-incher, though.