Following an initial unveiling back at IFA, Harman Kardon has today announced that its GLA-55 high-end speaker system is now available to purchase in the UK.
The clear-glass speakers, pictured below, are claim to offer "the perfect mix of cutting-edge style and impeccable sonic performance". We can't comment on the latter, but they're certainly stunning to look at.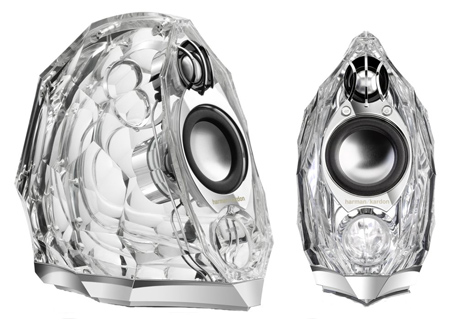 In addition to the "ice-cool" looks, the GLA-55 incorporates a number of Harman Kardon technologies designed to enhance audio quality. Some of the highlights include:
Atlas AL and CMMD Transducers - The CMMD drivers provide accurate high frequencies, but are capable of low-frequency extension to four octaves; the Atlas AL drivers are capable of nearly 2,5 cm peak-to-peak travel for tight, accurate bass reproduction. Their pairing provides a full, rich frequency response, from the lowest bass to highest highs.
Slipstream Port Design - The GLA-55 port minimises boundary layer separation, providing high-output bass with low distortion.
COE (Computer-Optimised Equalisation) - The system equalisation is computer-optimised to provide a rich, complete soundstage over a wide range of listening positions.
OCT (Optimised Compression Topology) - The GLA-55 system utilises a proprietary compression technology to ensure clean, accurate sound at high output levels.
The Harman Kardon GLA-55 system is compatible with desktop computers (all platforms), laptops and MP3 and portable media players. In clear with chrome accents.
Want to make somebody very, very happy this Christmas? The GLA-55 system is expected to arrive on the UK Apple store later today priced at just £749.99.