Late last week, GIGABYTE left ASUS with its knickers in a twist after claiming ASUS' Energy Processing Unit to be a software-based feature that doesn't deliver on promises.
ASUS, undeterred, threatened legal action against "a certain Taiwanese motherboard manufacturer", insisting GIGABYTE "made use of a sponsored gathering of local and international media to deliberately spread information that we consider both untrue and without credible verification."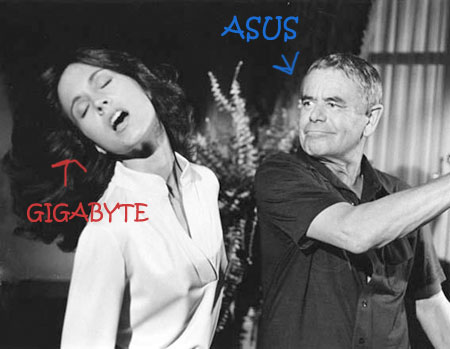 Back then, we stated that we'd look forward to GIGABYTE's retort, and now, we have it. Here's GIGABYTE's stance on the matter:
GIGABYTE UNITED INC., a leading manufacturer of motherboards and graphics cards would like to respond to recent statements by our competitor alleging GIGABYTE has made false claims against them. These statements were made in response to a report GIGABYTE detailed for the media which compared GIGABYTE's 4-Gear and 6-Gear Dynamic Energy Saver technology to our competitor's non-phase change and 2-Gear Phase changing energy saving technology. In addition, direct comparisons and testing results were reported between the GIGABYTE GA-EP35-DS3L motherboard and our competitor's P5K-SE EPU.

While GIGABYTE would like to express regret over any confusion this situation may have caused our competitor's customers, we do stand by our statements and testing report 100%, and eagerly await our competitor to clarify the issues we raised in order to avoid any further confusion.

In 2006, GIGABYTE was the first motherboard manufacturer to implement a higher quality, All-Solid capacitor design. In 2007, GIGABYTE further raised the bar with their Ultra Durable 2 design, which featured the highest quality components for the most durable, stable and lowest temperature platform. In addition to using All-Solid capacitors, GIGABYTE was the first manufacturer to utilise more advanced components including Lower RDS(on) MOSFETs and Ferrite Core Chokes. While these more expensive components raised production costs, GIGABYTE felt the improved energy efficiency and lower operation temperatures brought about a large improvement in overall performance for our customers.

In 2008, GIGABYTE again set a new standard with the introduction of their Dynamic Energy Saver (DES) technology, the world's first energy saving technology motherboards to feature up to 6 gears of power phase switching. Featuring a combination of hardware and software design, DES has proven to be an industry breakthrough and has received wide acclaim from media and end users alike by enhancing power efficiency up to 20% and providing CPU power savings up to 70%.

GIGABYTE promises to continue providing higher quality, better spec and greater performance products to our customers and will continue to develop new technologies to provide the safest, fastest, quietest, most convenient, most secure and most energy efficient computing experience possible. While other motherboard manufacturers have followed GIGABYTE's lead by introducing higher quality components on their products as well, GIGABYTE hopes this trend continues, as higher quality products not only strengthen the motherboard industry as a whole, but provides the best win-win situation for end users.
This time around, however, GIGABYTE isn't just using words. In a recent press release highlighting the introduction of GIGABYTE's energy-saving DES technology on entry level products, the manufacturer takes a stab at its competitor using facts, figures and a handy little graph:

The results are taken from tests run on two identical systems, except for the motherboards, of course. One system ran GIGABYTE's GA-EP35-D53L, the other ran ASUS' P5K SE EPU and power consumption tests were conducted at both idle and during SuperPi 32m. GIGABYTE states "the results clearly show that DES has the advantage over EPU, especially during PC idle times where the DES motherboard enjoyed eight per cent lower power consumption."
So, there we have it. GIGABYTE says its DES beats ASUS' EPU, what say you ASUS?