Press Release
Compro Technology, a leading developer and manufacturer of PC multimedia products, announces the latest analog and digital TV product series at Computex 2007. Compro has developed a complete VideoMate MCE solution to enhance the way people interact with Windows Vista/MCE. The VideoMate MCE solution maximizes your Vista experience with a smart, sleek, sophisticated Microsoft Certified MCE remote controller. Together with the VideoMate software tools, Compro offers products that make it easy to enjoy the latest in digital entertainment—at home or on the go Compro Technology will demonstrate all-new innovative multimedia solutions at Computex 2007.





VideoMate MCE Remote series


 
Compro has developed a new 51-key Microsoft certified MCE remote controller; IR100; to bring home theater and personal computers together. The IR100 is certified by MicroSoft, and offers complete freedom and 100% compatibility to control you Microsoft Media Center and other media players (Windows Media Player, iTunes, etc) and the XBOX360.



"HID" (Human Interface Device)



To the existing VideoMate user, Compro offers a S/W tool to migrate existing VideoMate users to the Windows Vista/MCE environment.  The HIID allows users to map MCE functions to the existing VideoMate 37-key remote controller.



MCE Remote Control Upgrade Kit



To the existing VideoMate customers, Compro offers a MCE Remote Control Upgrade Kit to enable the existing VideoMate users to upgrade your PC to Windows Vista/MCE environment.  The Upgrade Kit contains a MCE remote controller (IR100), an IR receiver, and a S/W CD.  The Upgrade Kit allows the existing VideoMate users to be fully compatible with the Windows MCE functions after upgrading to the Windows Vista/MCE and instantly enjoy the full features of the Media Center with a  MCE certified remote control.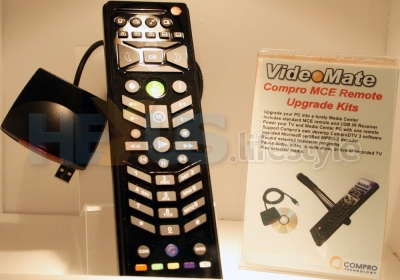 MCE Plug-in for all home entertainment



The MCE plug-in is to integrate Compro DTV 3 core function to the MCE environment. It provides enhanced features of the DTV 3 to complement the MCE features such as PIP, POP, additional recording formats, etc..



Vista Gadget TV show



This feature is to built in TV viewing into the Vista Gadget. You can watch TV shows in a window on the SideBar. This allows you to monitor the channel if you like. If you find something interesting and want to see more, you just need to double click the window and it will become the suitable size for you. You can also see the recording schedule status while you do your work at the same time.  It can also combine the DTV 3's function and make it more suitable for your needs.



Advanced Multiple Video Display Mode



ComproDTV 3 also supports connecting 2 or more Compro products at the same time, and allows you to watch TV shows simultaneously.  If you have more than one Compro analog or digital TV card and USB TV box, you can use them to watch live TV from different devices. You can see as many channels as you want as long as long your system can support it.

VideoMate E series for new interface

Compro is introducing a full PCI-Express product line in 2007 Computex.

VideoMate E800 offers a high performance hybrid DVB-T digital TV or a H/W encode analog TV solution.  The overall system loading will be lower while recording analog TV due to the H/W encoding feature..

VideoMate E700 is a dual DVB-T PCI-E TV tuner solution.  With a super-fast scanning feature, it brings a sentional experience to the digital TV entainment viewing.  Bundled with Compro exclusive ComproDTV 3 software, you can watch 2 to 4 digital TV shows at the same time. Moreover, with Compro exclusive Power Up Scheduled Recording, it can automatically boot up your system then record your favorite shows, and ComproDTV 3 will automatically shutdown your system when recording is completed. Furthermore, you can power up and shut down the PC with the bundled ergonomic design remote control.



VideoMate U series with new models



VideoMate U2800 is a fully functional hybrid USB 2.0 DVB-T or analog TV tuner box, which brings digital terrestrial TV and universal analog TV broadcasts to your PC.

VideoMate U3000, is a fully functional hybrid USB 2.0 ATSC and analog TV tuner box, which provides HDTV quality ATSC digital TV and worldwide analog TV reception. It has built-in S-Video, composite video and stereo audio capturing without an external power adaptor required in the smaller than a credit card size product.



Compro Exclusive Technology



Compro introduces the latest VideoMate series products and is devoted to hardware and software development. Compro's exclusive Power Up Scheduling let's you automatically boot up your PC from the Windows Shut Down (ACPI S5), Stand by (ACPI S3), and Hibernation (ACPI S4) modes to record your favorite shows and the ComproDTV 3 will automatically shut-down your system when recording is completed. Furthermore, Remote Power On/Off will enhance the home entertainment PC experience, users can power up and shut-down PC with the bundled ergonomic design remote control, this enables you to relax and watch TV on your PC from the comfort of your couch without having to stay in front of your PC. Besides, Compro Picture Purifying Technology built-in advanced noise reduction and de-interlacing provides crystal clear video quality of free-to-air digital terrestrial and worldwide analog TV. All these exclusive technologies will guarantee you the best multimedia experience.

The whole-new ComproDTV 3 software bundled in Compro VideoMate series products supports advanced Picture in/out Picture and not only allows you to watch live TV and playback video files at the same time, but also let's you open up to 4 digital TV channel windows at once. Also, you can customize the channel order, my favorite channel list and customize brightness, hue, saturation, contrast, sharpness and language selection in each TV channel. Video Desktop function let's you set up the live TV screen in wallpaper mode. Making your PC a professional multimedia center is no longer a dream. Furthermore, timeshifting, FM radio, EPG, Subtitle, Teletext and multiple still frame capturing and remote snapshot are mostly available in the futuristic technology products.

Want to get into Compro's High Quality products deeply, to enjoy the dynamic digital TV viewing experience? Come visit us in Computex 2007. Let's enjoy the fun of multimedia with the least cost and the most convenience together.