Hardware record DVD full-D1 or MPEG-2 TV

" alt="Computex 2007"/>What kind of TV card do you need in these digital times? Compro Technology, an innovative leading manufacturer and developer of PC multimedia products, launched VideoMate E800, which is a hybrid advanced PCI-E interface DVB-T and analog TV/FM tuner card with powerful real-time hardware MPEG-2 encoding. You can hardware record DVD full-D1 / MPEG-2 TV shows and hardware timeshift for instant replay of live TV without heavy CPU loading as a high-end DVD recorder. E800 combined the hardware MPEG-2 encoding which brings high quality digital terrestrial TV and universal analog TV/FM broadcasts to your desktop PC. It turns your computer into a home entertainment center by bringing you digital/analog TV viewing, video/audio capturing, high quality 480i/576i component video input and is certified for Windows Vista 32 and 64 bit system.

Aside from having excellent hardware design and features, with VideoMate E800 accompanied by Compro's exclusive ComproDTV 3 software, you can watch free-to-air 1080i HDTV quality digital TV or universal analog TV shows on your desktop PC, set S5/S4/S3 mode power up scheduled recording, remote power system on/off, play recorded files, timeshift live TV, channel surf and single/sequentially capture still frames, make Straight-to-Disc recordings of your TV shows, and customize brightness, hue, saturation, contrast, sharpness, TV formats and stereo/SAP (or all audio channels in DVB-T) in each TV channel. With this handy software, the advanced Picture in/out Picture not only allows you to watch live TV and playback video files, but also lets you open up to 1 main and 3 sub digital channel windows at once; customize the channel order and set your 'my favorite channel list' for more easy use. The Video Desktop can set up the live TV screen in wallpaper mode and let you use other applications simultaneously.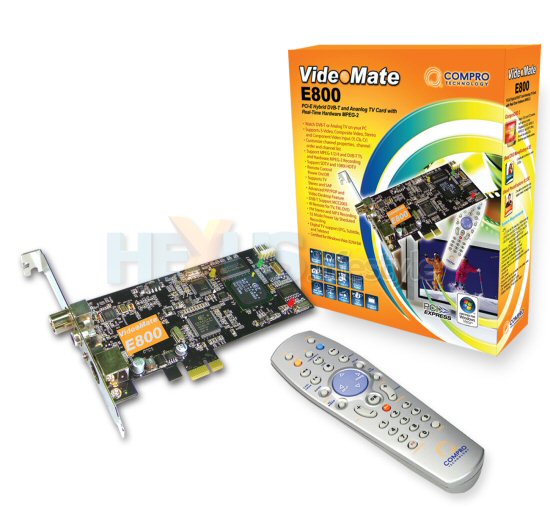 Click for larger image



VideoMate E800 comes richly bundled with ComproDVD 2 for watching DVD, ComproFM 2 for FM radio listening and MP3 recording, Ulead PhotoExplorer 8.5 SE for managing your media files, and Ulead DVD MovieFactory 4 SE for DVD authoring. With the ergonomics remote control and powerful features, VideoMate E800 is absolutely the best, super PCI-E TV card for your digital life.

Key features
Watch DVB-T digital TV or analog TV on your PC
Built-in high-performance real-time hardware MPEG-2 processor
Hybrid DVB-T and analog TV reception with FM radio
Worldwide analog TV (NTSC/SECAM/PAL) reception
High-Speed PCI-Express x 1 interface for better performance
Supports 480i/576i component video input
Digital TV supports SDTV and 1080i HDTV (where available)
Supports SAP(MTS/NICAM)/Stereo in analog TV
FM radio and MP3/WAV/WMA recording
Timeshift to pause and instant replay of live TV
Compro exclusive S5/S4/S3 mode Power Up Scheduled Recording
Convenient Remote Controlled Power On/Off
Hardware timeshifting for instant replay live TV without CPU resource
Advanced PIP/POP feature can open up to 4 TV channel windows. You can watch live TV and playback 1 recorded video files at once
Video Desktop can setup the live TV screen as wallpaper
Customize Brightness, Hue, Saturation, Contrast, Sharpness, and TV/audio format in each TV channel
Customize channel order and favorite channel list
Straight-to-Disc recording for analog and digital TV
Supports hardware MPEG-2 and software MPEG-1/2/4 recording for analog TV/video (The 3rd party MPEG-4 CODEC is required)
Supports MPEG-2/Transport Stream record/playback in digital TV
Digital TV supports EPG, subtitle, & Teletext (where available, does not support MHEG-5 in UK)
Analog TV supports Closed Caption
Single/Multiple still frame captures and remote snapshot
Splits recording file size for different media in analog TV
Pauses while recording to skip commercials in analog TV
Fully functional IR remote for TV , FM, and DVD
Captures analog video from Composite, S-Video or Component
Microsoft MCE2005 and media center feature support in DVB-T
Certified for Windows Vista 32/64 bit



" alt="Computex 2007"/>