The latest figures from the International Data Corporation (IDC) don't paint a pretty picture for the survival of the PC industry as we know it. During Q1 2013 total worldwide PC shipments totalled 76.3 million; this figure represents a 13.9 per cent decline year-on-year and is much worse than the analyst forecasts, which estimated the decline would be nearer to 8 per cent.
A particular weakness in the PC market was in the sales of mini-notebooks. The downturn in this segment has "taken a big chunk out of the low-end market while tablets and smartphones continue to divert consumer spending," according to the latest IDC report. The report also finds that attempts by the PC industry to combat the growing tablet market has been hampered by three significant issues; 1. Integrating touch screens makes laptops more expensive, 2. Making laptops thinner and lighter also adds to the BOM, 3. Windows 8 has had a "weak reception".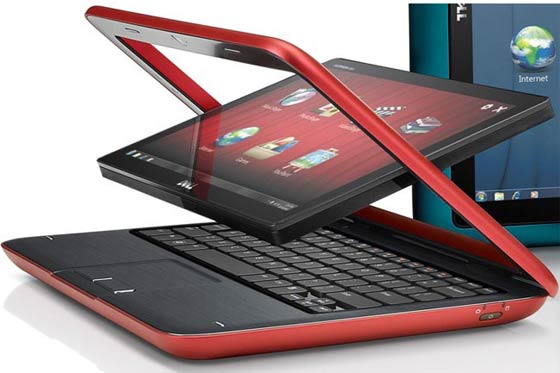 IDC's Bob O'Donnell went so far as to say that Windows 8 has actually been a contributor to the slowdown in PC sales. O'Donnell explained that "While some consumers appreciate the new form factors and touch capabilities of Windows 8, the radical changes to the UI, removal of the familiar Start button, and the costs associated with touch have made PCs a less attractive alternative to dedicated tablets and other competitive devices. Microsoft will have to make some very tough decisions moving forward if it wants to help reinvigorate the PC market."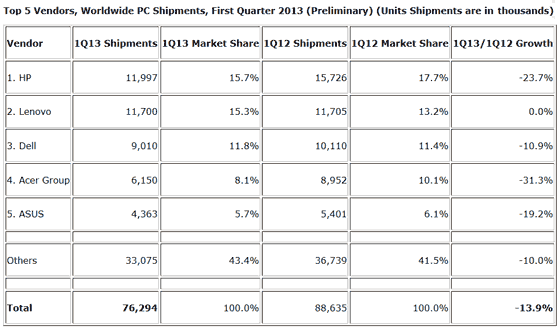 Looking at the chart above, the sales of Lenovo are a standout figure. The Chinese PC manufacturer is in second place overall but is extremely close to HP, which remains in the top spot. Also Lenovo's figures are remarkable as it doesn't seem to have lost any sales, nor gained any with a growth figure of exactly zero per cent. (Looking at the actual numbers it sold 5,000 less PCs in Q1 2013 than in Q1 2012, a figure which is insignificant in the scale of things)
IDC analysts offered some insight about HP and Dell's situation; it is thought that "restructuring and reorganizing efforts (are) impacting HP and Dell". Meanwhile, Apple, which isn't on the Worldwide chart but features on the US chart at position 3 with 10 per cent of the market, saw its sales affected by the popularity of its own iPads, according to IDC.
Overall it was "the magnitude of the contraction" of the PC industry which took analysts by surprise. I hope that a bumper crop of great products, both hardware and software, can breathe some more life into PCs at Computex Taipei this summer. Also a huge amount of people, and businesses, still holding onto Windows XP machines will hopefully do something, including buying new PCs, before this time next year.