In one month's time Sky will shut down the Acetrax movie streaming service. Sky bought Switzerland-based Acetrax a year ago but has now integrated the streaming technology it was interested in acquiring into its own Sky Go and Now TV products so has decided to "manage down" the service (close it). Customers who have used the Acetrax service and paid to download and keep some of their favourite movie titles are now in a bit of a sticky situation. According to a CNet report users must "Download movies by 21 June or lose them".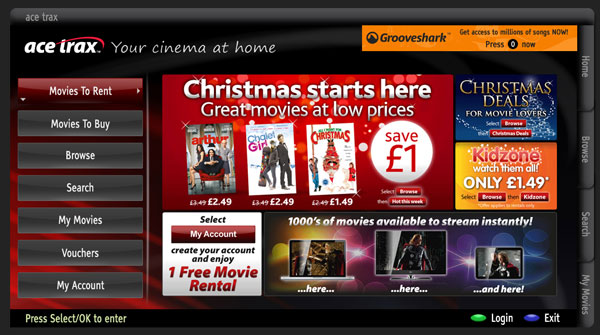 Acetrax was a service I have personally never heard of, however the service was apparently built into TVs made by big-name electronic companies such as Samsung, LG and Panasonic. Users who streamed movies to watch immediately have nothing to lose, Acetrax is still offering such a service, but the service used to also offer the choice to buy and keep your favourite movies. People who decided to buy these DRM infected files now have a tricky quandary facing them.
CNet lists a series of awkward restrictions a user must manage, to get to keep their paid for and downloaded media:
"Standard-definition files only. If you've paid for an HD version, you can't download it.
PC only. If you have a Mac, you can't download the thing you've paid for.
That specific PC only. 'You will not be able to transfer the movie to another device,' its FAQ warns.
You'll need up to 2GB of hard drive space for each download.
You can only watch it with Windows Media Player (get the latest version here).
You need to play each movie for at least 5 minutes, again before 21 June, so Acetrax can validate the licence.
Hope nothing goes wrong with your computer. 'Resetting the factory settings on your PC will also result in removal of the licence, which can then not be retrieved,' Acetrax says."
That's quite a list full of peril, bother and inconvenience. However there is a form you can fill in to request your money back if you "purchased HD movies or any kind of film on a Mac computer, an iOS or Android device, or a smart TV" reports The Register. You can only receive refunds, if granted, through a PayPal or ClickandBuy account.

For research purposes I have tried to access the Acetrax refund form via the link provided by CNet but it currently appears to be unavailable...