The BBC's commercial arm, BBC Worldwide, today published its annual review. In the report for the year ending 31st March 2012, revenue was up 5.4 per cent at £1.085 billion for the year and profits up 7.9 per cent at a total of £155 million. The proportion of revenue gathered from digital activities rose a huge 58 per cent compared to last year and contributed 12.8 per cent to group revenue.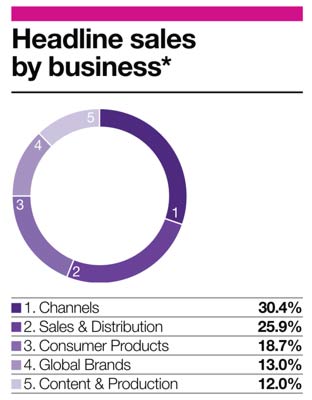 BBC Worldwide is divided into five operating businesses; Channels, Sales & Distribution, Consumer Products, Global Brands and Content & Production. The business monetises BBC content through the following activities:
selling finished programmes to broadcasters around the world
acquiring them for our own BBC-branded channels
publishing to consumers on DVD, download-to-own, or other forms of electronic ownership or access
building websites, applications and games around the content
licensing brands to third parties to turn into consumer products, such as toys, gifts or clothing
re-producing formats and related IP with a local flavour through international production
delivering live events and experiences to fans
publishing as books and magazines, some through third-party relationships
The annual review says a large part of the future of BBC Worldwide depends upon driving digital growth, in fact this is the organisation's number one strategic objective. By 2015 the company aims to deliver 15 per cent of revenue from digital.
Looking at digital activity statistics, the BBC has developed 11 games titles in the last year, 31 million programmes have been downloaded, 25 million apps have been downloaded and the BBC has over 23 million Facebook fans. The report says that "Digital is becoming increasingly important to our industry's future and is where our consumers, platforms, and devices are heading." Of course TV show streaming and downloading over the internet is a strong suit for the BBC, "Very strong growth in sales to subscription video-on-demand services (SVOD) has been driven by licensing our content to a host of platforms including Netflix and LOVEFiLM for their UK market debuts. We have also signed video-on-demand (VOD) deals with Rostelcom and Tvigle.ru in Russia, Spiegel in Germany, FetchTV and Quickflix in Australia, Hulu in Japan and Youzee in Spain among others."

As some areas prove more lucrative, other markets decline and thus BBC Worldwide has decided to exit the BBC Magazines business. Chief Executive, John Smith explained "The decision to exit BBC Magazines came after careful thought. Our Board concluded that its long-term success lay with new owners, who could pursue sector consolidation and emerging format investment with fewer constraints."Moving away from print to invest more in digital does seem a wise move if you look at the problems many traditional magazine publishing companies are having. The magazine titles sale brought in an extra £121 million to the BBC's coffers in addition to the £155 million profits declared in the report for this year.