Microsoft has published its latest set of financials, this time for what it refers to as Financial Year Q1 2020. The firm highlighted the positives, of course, and the headline news is that it was a good quarter for Microsoft with it beating analyst estimates for both revenues generated and income per share. Across the three business segments Microsoft runs, two enjoyed double figures percentage revenue gains (Productivity and Business Processes, Intelligent Cloud) but the area which most touches our interests, that of More Personal Computing, only enjoyed a revenue uplift of 4 per cent in the most recent quarter. These three segments are very well balanced in terms of the revenue they bring in (all between $10.8bn and $11.1bn).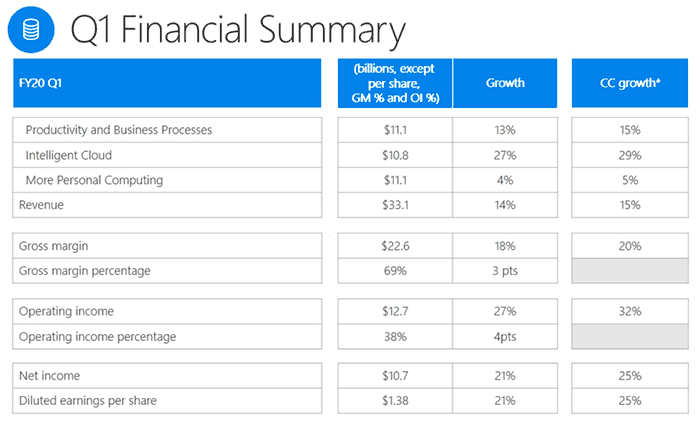 Looking at the big figures first, Microsoft's revenue for Q1 2020 was $33.1bn and increased by 14 per cent YoY. Over the same comparison period Microsoft has seen operating income up 27 per cent, net income rise 21 per cent, and earnings per share up 21 per cent. Microsoft CEO Satya Nadella said that "We are accelerating our innovation across the entire tech stack to deliver new value for customers and investing in large and growing markets with expansive opportunity." However, we can see that Productivity and Business Processes, and Intelligent Cloud are outpacing More Personal Computing by quite a margin.
Official highlights of each of the three segments with component business breakdowns can be found below: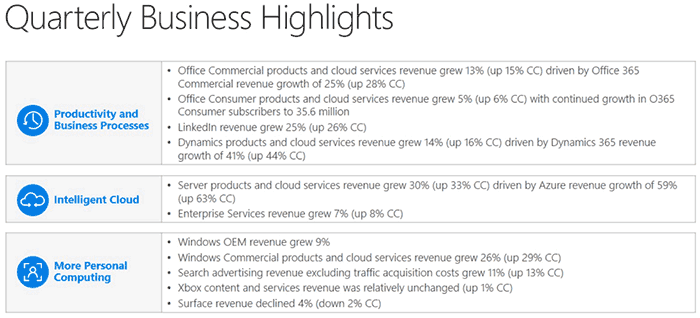 You can see above that Microsoft's Cloud businesses are really healthy and have great momentum. Admittedly there is now some deceleration in Azure revenue growth but it is still growing very fast - better than major competitor Amazon Web Services.
HEXUS readers are traditionally most interested in the More Personal Computing section of Microsoft's business. Again Cloud rated parts of this business were the best performers. Meanwhile Windows OEM revenue grew 9 per cent as Microsoft steps up efforts to get users to migrate to its newest OS. Xbox content and services revenue was flat but I suppose that is understandable considering the calendar.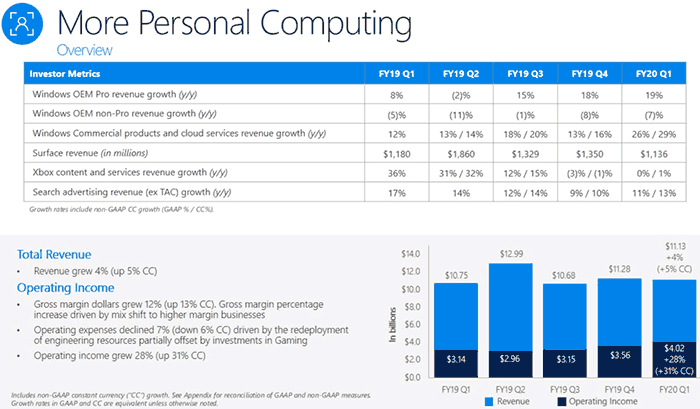 Last but not least, Surface revenue delivered a rare bleak spot on Microsoft's financials. Revenue down 4 per cent in the latest reported quarter and CFO Amy Hood blamed "the timing of product lifecycle transitions," for this dip. However, Microsoft has recently announced some new devices which could provide a "low double-digit" boost and its longer term plans with the foldables, Surface Neo and Surface Duo, could potentially excite the buying public next year.
Extra: Xbox exec Mike Ybarra leaves Microsoft
Former Xbox exec Mike Ybarra has joined Blizzard Entertainment. "We will work with all our energy to serve gamers with incredible content and experiences," Ybarra said. "I can't wait to be part of this team." reports Games Industry Biz.