Microsoft has released its latest set of financials. The so-called FY19 Q1 results are in and they look very good for the company as all operating groups boasted double-digit year-over-year growth - delivering a record quarter. Of particular merit was Microsoft's Azure business, up 76 per cent, and its Gaming revenue, up 44 per cent. Headline figures are that Microsoft's revenue was $29.1B, up 19 per cent, net income at $8.8B was up 34 per cent and EPS of $1.14 was up 36 per cent. Microsoft's shares are approx 5 per cent up in afterhours trading, making up for a slide of similar magnitude ahead of these very reassuring results.
In a statement accompanying the financials, Microsoft CEO Satya Nadella was quoted as saying "We are off to a great start in fiscal 2019, a result of our innovation and the trust customers are placing in us to power their digital transformation." Nadella simply explained that the underlying business model was behind the success. More specifically, CFO Amy Hood said "Our record results for Q1 reflect our commitment to long-term strategic investments and consistent execution to drive revenue growth and operating margin expansion." Hood highlighted the success of cloud offerings as being key to the recent success.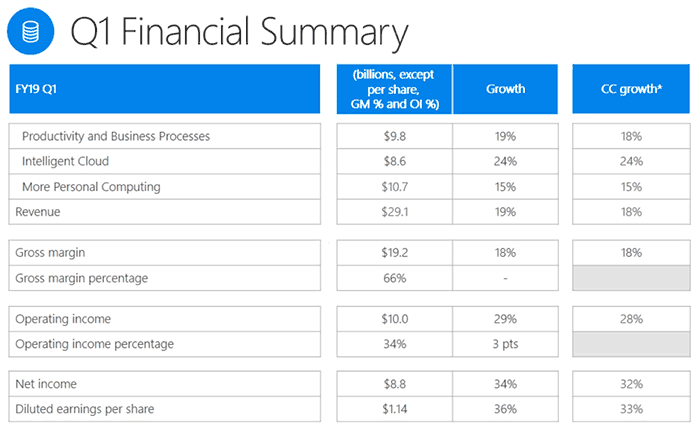 Above you can see the revenue and growth of the various Microsoft operating groups. Below Microsoft has made a handy table with highlights from each of the three segments.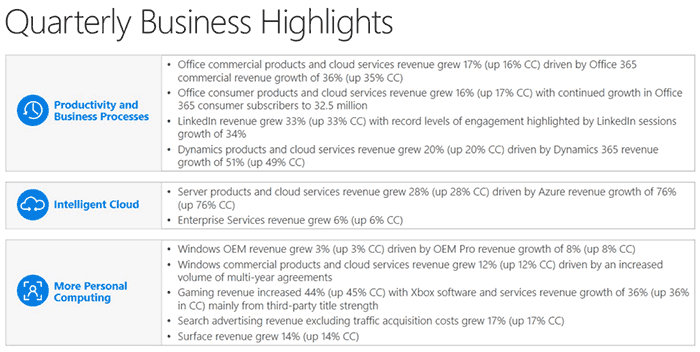 HEXUS readers are likely most interested in Microsoft's More Personal Computing segment, which includes Windows, Surface, and Gaming. So I've embedded the overview slide for this segment below. You will see that while total revenue was up about 15 per cent for this segment, and operating income grew, some sub-segments weren't stellar performers.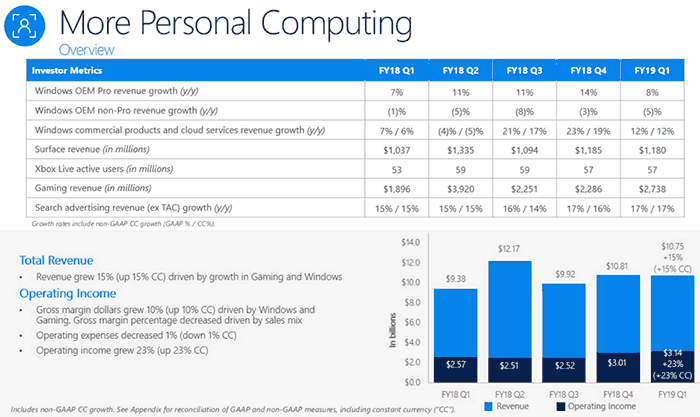 Probably the standout performer within More Personal Computing is the Gaming business. You can see revenue from software and hardware grew strongly. Microsoft signalled that it will continue with initiatives to power-up gaming. One thing of interest in the post-results conference call was the mention of plans to bring the Xbox Games Pass to PCs. On the console side of things that pass provides access to 200+ old and new games.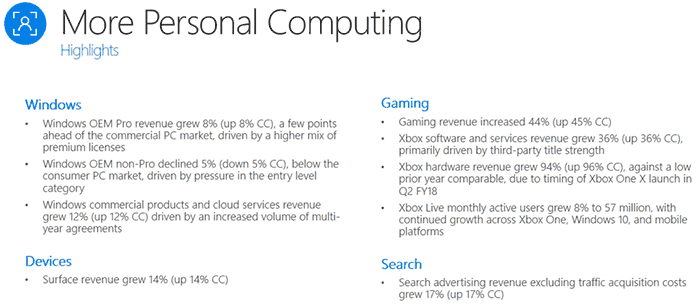 Nadella says the move will increase the strength of Microsoft gaming. Thanks to Xbox 'Play Anywhere' existing game pass subscribers can already play a multitude of titles on Windows 10 but this limited selection is mostly Microsoft's own titles. PC Gamer speculates that on the PC side this could be expanded greatly, even more so if there is some emulation software designed to include Xbox backwards compatible titles.