Thin and light notebooks are all the rage, but if you're the type of professional who needs powerful computing in the field, you've got to be wanting a notebook with Intel's all-conquering Core i7 975 Extreme Edition processor.
Fortunately for you, you can always really on Eurocom, who is today announcing that its D900F Panther notebook - part of its Mobile Server range - has been upgraded to support Intel's flagship Core i7 or Xeon 5000-series processors, up to 24GB of DDR3 memory, and up to 2TB of storage. Oh, and it squeezes in NVIDIA's GeForce GTX 280M GPU, too.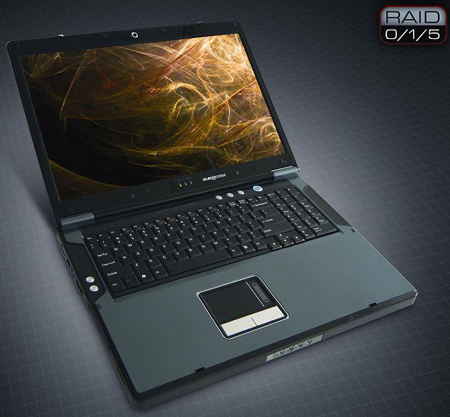 The D900F Panther measures 397mm x 298mm x 60mm, and weighs a leg-breaking 5.4kg. Don't let the dimensions deter you, though, this isn't meant to be small and cute, it's aimed at military, medical-type markets, and its sole purpose is to provide workstation-class computing in the field.
Mark Bialic, Eurocom president, describes the D900F as follows:
It's a server or workstation-calibre computer complete with built-in Uninterrupted Power Supply (UPS) in a 12pounds notebook form factor. This is one extremely fast notebook that offers server or workstation calibre capabilities. It is designed to replace traditional desktop based workstations. It offers incredible high ROI by allowing companies to be more productive and offer new "on the go" CAD/CAM services while greatly reducing overall IT management costs.
The notebook's complete specification is detailed by Eurocom below.
| | |
| --- | --- |
| Product Specifications | EUROCOM D900F Panther |
| General Information |   |
| Colour | Black |
| Supported O/S | Win VISTA/XP Home/Pro/Linux/Server2008 |
| Special Feature(s) | Intel i7 Processor; RAID 0/1/5 support; nVidia GTX280M |
| System Architecture |   |
| Spindle Design | 5-spindle; 1xODD+3xHDD+1xCard Reader |
| System Architecture | i7 |
| Main Chipset | Intel X58 + ICH10R |
| System Bus/FSB | up to 6.4GT/sec on QPI |
| BIOS Size/Name | PHOENIX |
| Processor |   |
| Processor Make/Class | Intel i7; LGA1366 |
| Socket Type/Spec | LGA1366 |
| Processor Speed(s) | 2.66/2.93/3.2GHz |
| Cache (L1/L2) | L3: 8MB |
| Video and Graphics |   |
| Video Memory/Type | 1GB GDDR3 |
| Video Architecture/Chipset | 16xPCI-E; Nvidia GTX280M; MXM3.0b |
| Built-in PC Camera | 3M optional |
| Display |   |
| LCD size/type/resolution | 17-inch; WUXGA 1920x1200 or WSXGA+ 1600x1050 |
| Memory |   |
| Maximum RAM/# of sockets | 12GB; 3 |
| RAM Type/Spec/Pinout | DDR3-1333; 204pin; SODIMM |
| RAM Configuration(s) | 12/8/6/4GB |
| Storage |   |
| Hard Drives: total # ; max capacity/rpm | 3; 1.5TB (3x500GB) |
| 1st HDD: Max capacity/height/interface | 500GB; 9.5mm; SATA-300; 7200rpm |
| 2nd HDD: Max capacity/height/interface | 500GB; 9.5mm; SATA-300 |
| 3rd HDD: Max capacity/height/interface | 500GB; 9.5mm |
| 4th HDD: Max capacity/height/interface | N/A |
| Card Reader/Type | 7-in-1; MMC/RSMMC/MS/MS Pro/MS Duo/SD/Mini-SD |
| Internal Floppy Drive | Optional via USB |
| 1st Optical Drive Bay height/options | Blu-Ray Burner; DVD Burner |
| 2nd Optical Drive Bay/Height | N/A |
| DVD-ROM Module | DVD Burner |
| CD-Burner (WxRWxR) | via DVD Burner |
| Combo DVD-ROM/CD-RW DVDxWxRWxR | DVD Burner |
| DVD-Burner | 8x Multi DVD Burner; BLu-Ray |
| Audio |   |
| Audio Architecture | UAA (Universal Audio Architecture); HD Audio Interface |
| Audio Chipset/Spec | UAA Architecture |
| Internal Speaker(s) | 4 |
| Audio-Out | 1-S/PDIF 7.1CH |
| Microphone Audio-in | 1- Mic in |
| Headphone Out/Jack | 1 |
| Built-in Microphone/Spec | 1 |
| Communications |   |
| on-board LAN / Chipset | 1Gigabit; RealTek RTL8111C; PCIe |
| Internal Modem Type/ Spec | 56K V90/92; Azalia+AC97ML3054 |
| Internal Wireless LAN spec | 802.11a/b/g/n |
| Internal Bluetooth | Optional; V2.0+EDR |
| PC Card Slot(s) |   |
| PC Card Architecture/Chipset | Express Card |
| # of slots/Type/Voltage | 1; ExpressCard |
| Zoom Video Port | Via TV Tuner |
| Internal miniPCI # of slots/Type | 2; for TV Tuner and WLAN |
| Interfaces (Ports) |   |
| Serial Port | 1 |
| USB # of ports/Version | 4; ver 2.0 |
| External Monitor: port type; max resolution | 1-DVI with HDCP support |
| Video-In interface | 1-HDMI |
| RF-in Port | 0 |
| TV-Out (chipset/spec) | 1; HDMI with HDTV support |
| on-board FireWire (IEEE1394) | 1-4pin; IEEE1394a |
| LAN on-board interface | 1-RJ45 |
| Parallel Port /Spec | 0; optional via ExpressCard |
| IrDA (location/spec) | 0 |
| PS/2 Port | 0 |
| Port Replicator Connector | USB based |
| Port for Security Cable and Lock | 1-Kengsington Lock |
| Internal Modem Interface | MDC |
| Built-in Antenna for Wireless LAN | Yes; including 802.11n |
| Input Devices |   |
| Internal Keyboard # of keys / hot keys | Full-size 102-keys keyboard |
| Built-in instant keys | 3 |
| Numeric Keypad | Seperate within the keyboard |
| Multi-language Keyboard(s) | Available |
| Internal Pointing Device | TouchPad with scrolling function |
| Battery |   |
| 1st Battery: # of cells; capacity; life | 12-cells; 6600mAh |
| 2nd Battery # of cells; capacity; life | N/A |
| Dimensions |   |
| Product Dimensions WxDxH (mm) | 397x298x51-60 |
| Product Weight (kg) | 5.4kg/11.9lbs |
| Packaging L xWx H / N.W. / G.W. | N/A |
| Included Accessories |   |
| AC Adapter/Model #/Max Output | 220W; 100-240V 47-63Hz; 20V 14A; auto-switching |
| Carrying Case | Optional |
| Drivers and Utilities CD | Included |
| Extra Accessories |   |
| Internal MP3 Player | N/A |
| Internal TV Tuner w/Remote | Available |
| Internal IP Sharing Module | N/A |
| Extra 1st Battery Pack | 12-cells; 6600mAh |
| Optional AC Adapter | 220W |
| Optional 2nd Battery Bracket | N/A |
| Optional Car Adapter | 300W Car Inverter |
| Air and Car Adapter | N/A |
| MPEG-2 H/W | Integrated via TV tuner |
| Internal LS-120 Drive | N/A |
| Optional Modem | N/A |
| Optional Port Replicator | USB based |
| 2nd HDD Bracket/Height | Available; 9.5mm |
| Internal ZIP Drive/Capacity | N/A |
| Internal Sub-Woofer | Standard |