So the beanz keep coming....

IWILL 4-Way Xeon MP Server Board (EATX 12"x13")



HEXUS has got exclusive photos and information about IWILL's upcoming 4-way (supporting dual-core) high density, Intel Xeon-MP Server solution.

As with all systems which go in to a datacentre, space is king. With the launch of dual core from both AMD and Intel we believe the industry will see a lot more of these higher density, non-blade servers. So far, the first out of the block is this IWill, a server solution designed to work within a confined space and which uses the industry standard EATX (extanded ATX) format. The board, including the memory riser hardware, is designed to be installed into a 3U rack chassis.

The board is based upon Intel 8500 core logic, with the usual Intel feature-set based on RAS, serviceability and availability.

From a technical standpoint this board supports ECC memory, RAID memory, demand and control scrubbing and the ever-present SMBus for management. The memory RAID support runs in several modes: redundant, sparing, mirroring. This allows system data reconstruction should a memory board fail.

The board is based around the 6th generation Intel 8500 core logic and supports 4-way, 64-bit Intel Xeon Processors, and the chipset also has full dual-core Xeon support. It has the ability to use 16 DDR2-400 ECC Registered Memory modules, supporting hot-swap, memory raid – sparing/mirroring.

The board has 2 PCI-Express x8 connections (into PEG16X physical slots) and 2 PCI-X 100MHz slots.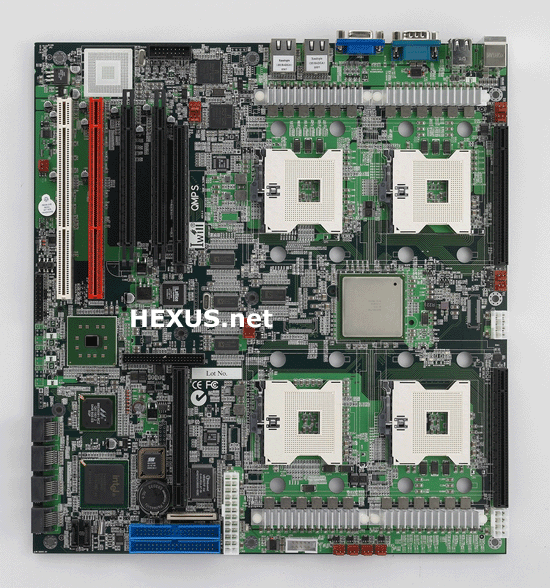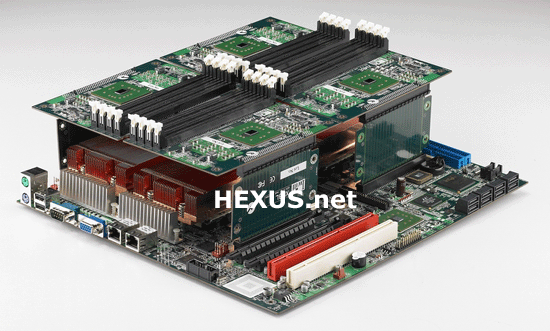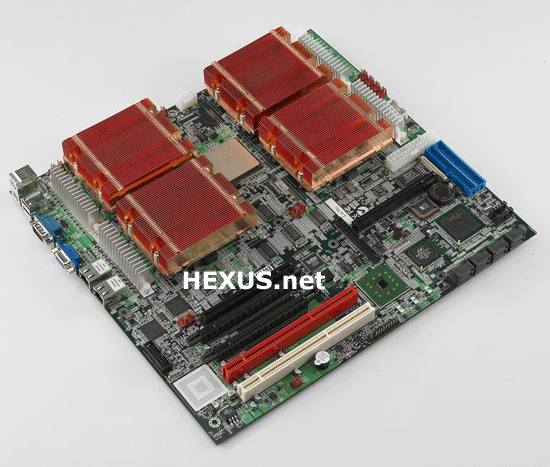 As you can see from the shots, the mainboard carries the Xeon processor sockets, with the memory modules residing on the riser hardware that connects to the mainboard's expansion slots. It's not clear how the memory topology is laid out, but it makes sense to assume that each memory controller on the riser hardware connects to just one processor on the mainboard, with the pin count enough for a full DDR2 memory datapath. More on the mainboard's technical details as and when we get it. IWILL will be demonstrating the hardware at Computex, so keep an eye out for coverage.