Patience is a virtue
Canadian BlackBerry-maker RIM held its AGM yesterday, and it was notable for the absence of shareholder furore over the poor performance of RIM's shares, which are currently trading at around half their value at the start of the year.
In the Q&A session after the presentation there were plenty of comments and questions from concerned shareholders, suggesting how things could be done better. Generally there were answered with an emphasis on how hard everyone is working on righting the ship and how they even work at weekends - "we literally don't take a day off".
There was also some apparent resentment from both shareholders and the company about its treatment at the hands of analysts and the press. One shareholder expressed disgust at analysts criticizing the company and driving down the stock, while at the same time sending those emails via a BlackBerry. However, there seemed to be a general consensus that RIM could improve its marketing, and RIM conceded that it has a bit to learn about retail products - i.e. the PlayBook.
The biggest product-related announcement was that there will be seven new BlackBerry handsets launched in the coming months as part of the Bold 9900 series, which will represent the largest global launch of BlackBerry smartphones.
RIM claimed to be very excited about these launches, but with its new, QNX-based, smartphone platform set to appear next year, RIM faces a struggle to get analysts and commentators excited about anything its launches before then. One shareholder said he wasn't happy that the 9900 has such a small screen, but was countered with an assurance that it's just one of seven products set to be launched. This implies there will be full-screen 7-series phones launched too.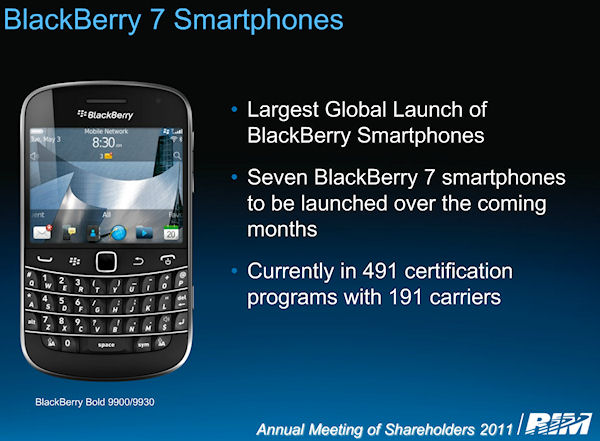 Bloomberg is reporting that a shareholder which had previously lobbied for a greater separation of the chairman and CEO roles has now decided to give RIM six more months to prove why the current set-up is advantageous.
While we were writing this RIM's PR people pinged over some facts and figures, presumably in anticipation of pieces like this being written. Most of them are already in the public domain, but we thought we'd share them with you regardless.
Our business
67 million subscribers
The BlackBerry Infrastructure passes close to 20 petabytes of data traffic each month
Seven BlackBerry 7 smartphones to be launched over the coming months
Over 90% of the Fortune 500 use BlackBerry today
BlackBerry PlayBook trials are underway in over 1,500 companies
BlackBerry App World
Approximately 35,000 apps available in total;
Over 1 billion apps downloaded to date;
Over 3 million daily downloads;
Approximately 3,000 apps available for PlayBook;
Available in more than 100 countries around the world;
BBM
BBM has more than 45 million active users world-wide
Over 5.2 million groups created
Sends 4 billion messages on an average business day;
Over 2 million users added a month
70% use it daily to communicate daily with friends, family and colleagues
BBM has grown 40% YoY - that equates to 48 new BBM users added every second (as of May 2011)
There are approximately 400,000 BlackBerry Developers
International success: market share in Europe, Middle East and Africa
International revenue in Q1 grew 67% year over year
Over 1M new BlackBerry subscribers were added across Europe, Middle East and Africa in a 3 week period (which ended early July 2011)
UK: According to GfK Retail and Technology, BlackBerry is the number one smartphone vendor and number one prepay smartphone vendor in UK in May 2011. Over the month, the BlackBerry Curve 8520 was the best selling prepay phone in the UK
Netherlands: According to GfK Retail and Technology, BlackBerry is the number one smartphone vendor and number one on prepay smartphone in the Netherlands in May 2011. Over the month, the BlackBerry Curve 8520 was the best selling prepay phone in the Netherlands
South Africa: According to GfK Retail and Technology, BlackBerry is the number one smartphone vendor and number one Contract Mobile Phone and Smartphone vendor in South Africa in May 2011. Over the month, the BlackBerry Curve 8520, the BlackBerry Bold 9780 and the BlackBerry Curve 3G 9300 were the best selling smartphones in South Africa
Saudi Arabia: According to GfK Retail and Technology, the BlackBerry Curve 8520 was the best selling smartphone in Saudi Arabia in May 2011
UAE: According to GfK Retail and Technology, the BlackBerry Bold 9780 was the best selling smartphone in UAE in May 2011