Dealnews has charted the prices of various capacity SSDs over the last year. An odd thing about the SSD market compared to the HDD market is that higher capacity storage devices have been commanding higher prices per GB than the smaller ones. Manufacturers could get this premium on the larger drives simply because people were willing to pay. This SSD pricing characteristic is now on the decline and recently it has been making sense in £/GB terms to actually buy the higher capacity drive; if you foresee the need and have the cash.
Please see the "dealnews" chart below to see what has happened with the US pricing this year;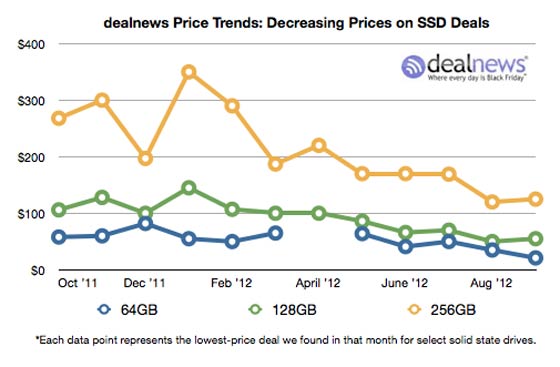 You can see that all SSD prices have dropped over the year but there was a big increase in late 2011 to coincide with the Thailand flooding tragedy. This may have something to do with the impact of flood damage on the HDD supply; HDDs are generally available in higher capacities. Then there was an equally large dip in Feb/March 2012. Since then the price of SSDs has continued to slide and parity in $/GB has become closer.
UK SSD prices
Let us look at the UK price chart for what is considered to be a high capacity SSD; the Crucial M4 512GB drive. The chart for this drive shows a little Thailand bump and then a steady decline until May/June when it drops off a cliff due to a competitive price war.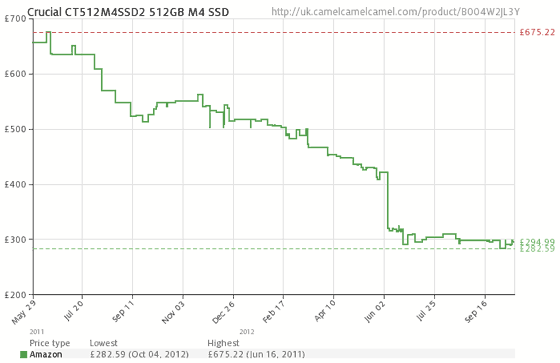 Example current £/GB prices for Crucial SSDs at Scan Computers.
You can see the latest prices of the Crucial M4 range from Scan, above, is now exhibiting a more normal pricing/capacity ratio, reflecting more closely the costs of the drives components and production.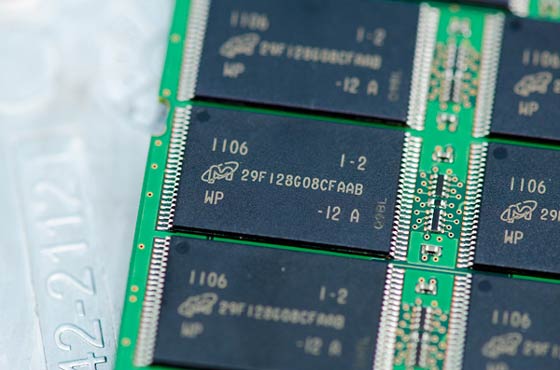 SSD manufacturers haven't been enjoying the decline in prices so have repeatedly talked about cutting production of NAND memory to create artificial scarcity. This type of supply manipulation can work for a while but is working against the market so in the long term it is difficult to maintain. Let's hope for some high capacity SSDs at HDD prices in the not too distant future!
Incidentally the cheapest £/GB drive I could find today was the OCZ 120GB Solid 3 SSD for £52.38 from Scan, a price of 48p per GB.