Taiwan Semiconductor Manufacturing Company (TSMC) has agreed to invest a total of $1.4 billion in Dutch semiconductor equipment maker ASML. TSMC's investment is in two parts; $342 million in R&D of next gen EUV lithography technology and $1.03 billion for a five per cent stake in the ASML company. Only a few weeks ago Intel made a very similar split investment in ASML, though Chipzilla's investments were of larger magnitude, totalling $4.1 billion.
TSMC are investing in ASML to gain technology and the capabilities to mass produce chips using a smaller process and using large 450mm wafers. Both the reduced chip size and the larger wafer size makes production more economical for chip makers with an added benefit that chips with a reduced size are generally faster and use less power.
EUV lithography – the best hope to maintain Moore's Law
EUV lithography is the technology used by ASML to produce chips with a smaller process size. ASML has stated the EUV process will be up-to-speed to be able to mass produce chips below 20nm by the start of 2013. In time, EUV should facilitate the reduction in process size of chips to 10nm and below. ASML is a leader in extreme-ultraviolet (EUV) lithography. On the ASML website the company summarises the key benefits as; "With the successful introduction of EUV lithography in high-volume manufacturing, multiple processing steps on critical layers can be eliminated on advanced manufacturing nodes, resulting in substantial manufacturing productivity gains, product power and performance enhancements, and lower capital expenditures."
Wafer size transition
Another area that ASML will aid TSMC is in the transition from 300mm wafer manufacturing to 450mm wafers. This move will increase output and reduce costs. Intel forecast moving from 300mm to 450mm wafers would bring "a 30 to 40 per cent reduction in die costs". The same figures will apply to TSMC's manufacturing costs.
COO of TSMC, Shang-yi Chiang, said that a big challenge in the industry is "how to effectively control the escalating wafer manufacturing cost" and this adoption of a greater wafer size will contribute a lot to cost savings. TSMC expect to be using 450mm tools in 2014, however ASML said it expects tools to be ready in 2018 according to Electronics Weekly.
Eric Meurice, chief executive officer of ASML said of the deal; "We welcome TSMC to our Customer Co-Investment Program. The objective of the Co-Investment program is to secure and accelerate key lithography technologies. These technologies will benefit the entire industry and are not restricted to our Co-Investment partners."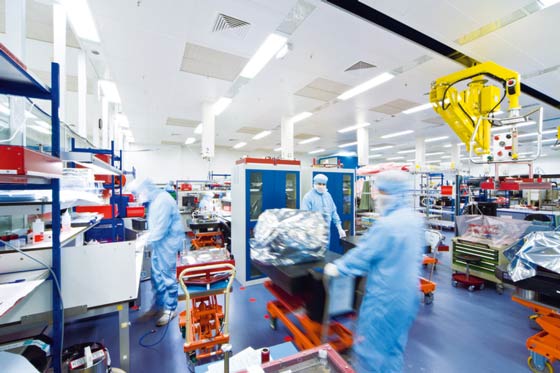 The other major customer of ASML is Samsung. There has been no announcement made by Samsung about investments in ASML. TSMC and Intel have taken a combined 20 per cent stake in ASML who stated it intended to sell 25 per cent to its top three customers. It looks like 5 per cent is left for Samsung. The benefits of the stake investment are clear but what does a larger R&D investment (Intel $1billion, TSMC $342 million) get for the participating companies?