Oh to be 4G
As we saw at CES 2011, 4G has moved very much into the mainstream. On one level it's easy to understand: 3G is what we currently use for mobile data, so 4G must be one better. If only it were that simple.
It's precisely because 4G is such a simple, easy to understand concept that marketing people have latched onto it like a thirsty leech. But within that term are a bunch of technologies, standards and levels of performance. We've seen HSPA+ described as 4G, but most people seems to agree the term starts at LTE, which stands for Long Term Evolution.
That name itself belies what a vague standard it is. There are at least three evolutions of LTE, and that's before you get to LTE advanced, which isn't expected to arrive before 2014. We first used the slide below in a story about ARM's new Cortex R series and, as you can see, ARM doesn't reckon the term 4G is accurate before you get to LTE-A.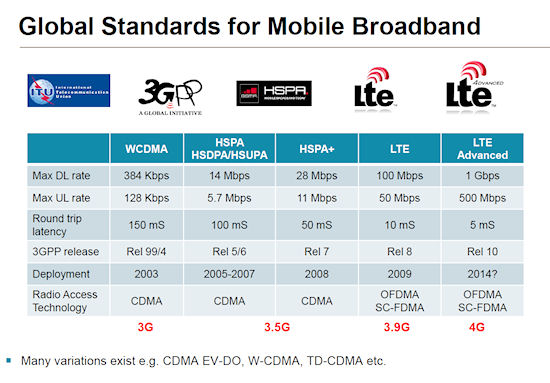 So to try to wade through some of this arcane murk, we spoke to Siegmund Redl, GM for Europe at Altair Semiconductor - a specialist in LTE chips. He concurred that there is a lot of conflicting messaging around 4G right now, but insisted there are a lot of real-world uses for the technology right now.
Currently Altair ships a lot of its chips in LTE USB dongles, as illustrated below. As well as the radio IC, Altair also provides the baseband processor, which ARM must be miffed to see is based on MIPS architecture. Redl reckons the market for such products is around two million units worldwide.
But that's set to accelerate rapidly, and Redl predicted that the inflection point - when LTE will become a realistic mass-market proposition - will come towards the end of 2012. While a lot of the requisite testing, etc has already been done, the automatic transition to and from LTE to older mobile technologies remains a major obstacle to be overcome.
For 4G chips to appear embedded in more devices, the multimode (2/3/4G) challenge needs to be overcome. In the meantime, another niche use for LTE, due to its greater range, is rural mobile 'white spots' where there's no mobile coverage.