Trial tablet
Electronic Contract Manufacturer SVTronics is offering a Texas Instruments Blaze development platform for tablets on its site. It will cost customers $2,259 and is expected to arrive this August. It looks like SVTronics is TI's manufacturing partner for these development platforms.
TI gave HEXUS.channel an introduction to the Blaze development platform for its next generation of SoC - OMAP4 - at this year's Mobile World Congress, but that one was to assist handset development. This is the first time we've seen TI target OMAP4 at the tablet market.
It's hardly a surprise, however, as its ARM-based SoC competitors are already active in that area. The iPad is a huge hit, while Snapdragon and Tegra-based tablets will be with us soon, and Intel's Moorestown will probably be primarily a tablet chip.
We haven't been able to find anything about this tablet platform on TI's website, and we're hoping to speak to TI about this soon. But in the meantime, here's the full feature list and an image, both courtesy of SVTronics.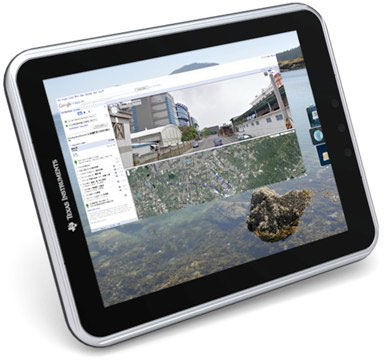 The Blaze Tablet
An OMAP4 tablet form factor development platform aligned to the Blaze development platform to maximize SW compatibility
Allows for cellular modem, WLAN, Bluetooth, GPS and FM connectivity re-configurability using same sockets as Blaze development platform.
Modularizes the OMAP4430 processor solution which minimizes re-investment for silicon upgrades Supports new feature/application development by allowing the multiple external camera modules and external pico DLP projector to have numerous attachment locations and fields of view
Blaze Tablet features
Core Logic
OMAP4430 1GHz application and multimedia processor IC
TWL6030 Phoenix power management IC
TWL6040 Phoenix audio IC
CDC3S04 clock driver IC
Memory
1 GB lpDDR2
32 GB eMMC v4.41
Display
10.4" XGA (1024 x 768) LCD
One (1) standard v1.1a DisplayPort connector
External pico DLP Projector Support
HDMI
User Interface
Projected Capacitance Touch (PCT) sensor
Multi-touch capable touch screen controller
Three (3) tri-color status LEDs used as backlight for "OS" buttons
Two (2) unbalanced mass vibration motors
Buttons and Switches
One (1) recessed, externally operable reset button
One (1) power on/off button
Three (3) front screen "OS" buttons
One (1) "lock" switch
One (1) battery mode switch
Serial Interfaces
One (1) HS USB OTG
Two (2) HS USB host ports
Removable Media
One (1) full size 8-bit SD/MMC external connector
One (1) full size SD/MMC internal connector
One (1) SIM card for modem support
Audio
One (1) 3.5 mm stereo headset jack for audio output and MIC input
Two (2) 1W RMS speakers
Four (4) digital microphones
Expansion
One (1) COM connector for connectivity modules
One (1) full miniPCIe connector for modem modules
Connectivity
WLAN (802.11a/b/g/n) via WL1283 COM7 module
BT via WL1283 COM7 module
GPS via WL1283 COM7 module
FM TX/RX via WL1283 COM7 module
Modem (Wide Area Network) Support
LTE modem support via standard miniPCIe module
3G modem support via standard miniPCIe module
To clarify, only one modem can be used at any given moment
Sensors
3-axis accelerometer
3-axis gyro
Temperature sensor
Ambient light sensor
Proximity sensor
Pressure (barometric) sensor
Digital compass
External Camera modules (optional)
5MP AF camera modules mounted externally on tablet frame
The camera module(s) will be connected to the Blaze via standard HDMI cables
Each OMAP4430 CSI-2 camera interface will have a dedicated HDMI-style connector
Mechanical
The mechanical envelope, is 10.48" (266.094 mm) x 8.28" (210.294 mm) x 1.14" (29 mm)
The frame of Blaze Tablet is aluminum
The frame of the Blaze Tablet will be grooved to allow for external camera module and pico DLP projector attachment
The attachment system will provide flexibility to the pointing angles of the external camera modules and pico DLP projector
Power
Support for USB power
One (1) standard 5V input for wall power
4100 mAHr single-cell LiON Battery
Debug
One (1) 802.3 (wired) Ethernet port (RJ-45 connector)
One (1) MIPI Test and Debug connector
One (1) USB connector which has serial (UART) data
Optional debug LEDs