Last Thursday Taiwan Semiconductor Manufacturing Company's market cap surged past that of Intel, reports Barron's. The contract chip manufacturer published better than expected Q3 earnings and showed its ambition by significantly raising its capital expenditure plans by US$4bn (to approx $15bn) to meet "very strong" demand for 7nm chips.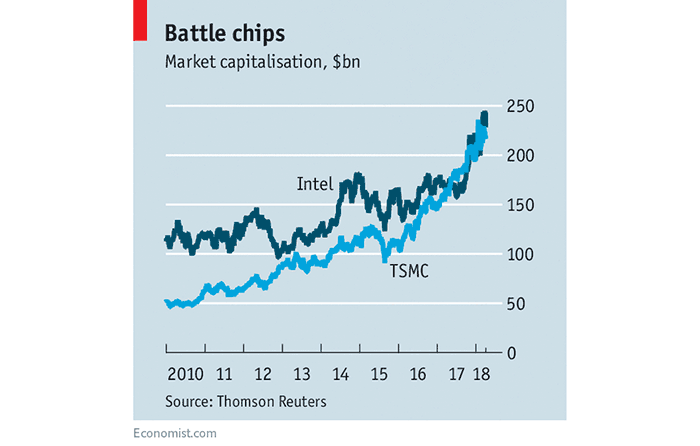 TSMC has been gaining steadily on Intel since around 2015. Graph from Reuters this April.
Breaking down its current figures, TSMC's Q3 revenue was $9.40bn, which is an improvement of >10 per cent YoY, and >21 per cent QoQ. Its advanced 7nm chips accounted for 17 per cent of wafer revenue, its 16nm output for 22 per cent, and 10nm for 2 per cent. "Our third quarter business benefited from new product launches both in premium smartphones and high performance computing applications using TSMC's industry-leading 7-nanometer technology," said Wendell Huang, VP and Chief Financial Officer of TSMC. "We expect the strength of demand for our 7-nanometer technology will continue, driven by high-end smartphones, initial 5G deployment and HPC-related applications."
As mentioned in the intro, capital expenditure plans have been ramped up from $10-11bn for the year to $14-15bn. Of the extra $4bn or so, $1.5bn is allocated to bulking up 7nm capacity and $2.5bn to add 5nm capacity.
Barron's garnered some interesting quotes from a report by Bernstein analyst Stacy Rasgon with regard to TSMC's performance and its place in the competitive chip-making landscape. "Intel's process disadvantage is getting worse," opined Rasgon. "While Intel will theoretically have 7nm parts out sometime in 2021...we believe it likely that CPU and other mainstream 7nm parts will not be on the road map until late that year, if not sometime in 2022." Then, by that time, TSMC will be a major 3nm producer.
Intel closing the process gap seems like an insurmountable challenge as things stand. It can hope TSMC drops the ball, but Intel is equally capable of mishaps and missteps.