Intel has announced that it has started to ship its Agilex FPGAs to several early access program customers such as Microsoft, Colorado Engineering Inc., Mantaro Networks, and Silicom. The companies are buying Intel's Agilex FPGAs for advanced networking, 5G and data analytics solutions that will be deployed at the hearts of their businesses.
The shipping of these FPGAs is important for Intel too, as they have become a proving ground for a wide range of its latest tech; 10nm process, second-generation HyperFlex FPGA fabric, heterogeneous 3D silicon-in-package (SiP) technology, Intel's embedded multi-die interconnect bridge (EMIB) technology. Furthermore these technologies are combined with analogue, memory, custom computing, custom I/O and Intel eASIC device tiles into a single package along with the FPGA fabric.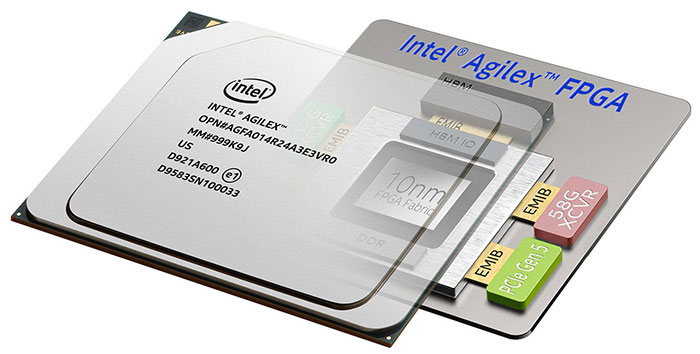 "The Intel Agilex FPGA product family leverages the breadth of Intel innovation and technology leadership, including architecture, packaging, process technology, developer tools and a fast path to power reduction with eASIC technology," Dan McNamara, Intel SVP and GM of the Networking and Custom Logic Group, summed up. "These unmatched assets enable new levels of heterogeneous computing, system integration and processor connectivity and will be the first 10nm FPGA to provide cache-coherent and low latency connectivity to Intel Xeon processors with the upcoming Compute Express Link."
In a press release sent to HEXUS there was some detail about Microsoft's plans for the Agilex FPGAs. Microsoft said it had been working closely with Intel on the development of these FPGAs and will "use them in a number of upcoming projects". Particular projects where Microsoft sees "tremendous value" is in accelerating real-time AI, networking and other applications/infrastructure across Azure Cloud Services, Bing and other data centre services. Going forward it hopes that Agilex FPGAs will help provide high quality cloud services, big data analytics and ultra-intelligent web search results for Microsoft product and service users.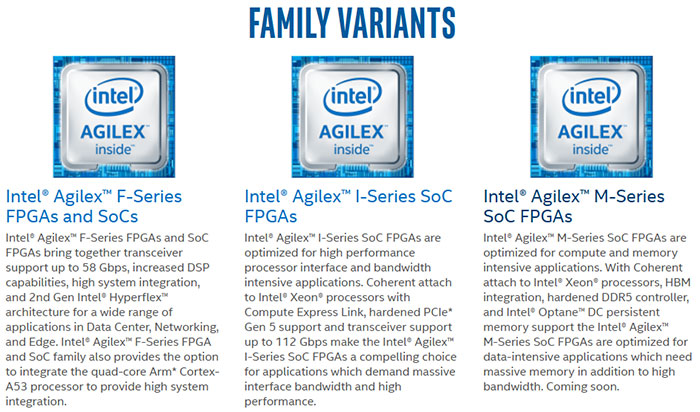 To show the potential of its new 10nm Agilex FPGAs, Intel provided a bullet point list of innovations made possible thanks to these chips:
Compute Express Link: Industry's first FPGA to support upcoming Compute Express Link (CXL), a cache and memory coherent interconnect to future Intel Xeon Scalable processors.
2nd-generation HyperFlex architecture: Up to 40 per cent higher performance or up to 40 per cent lower total power compared with Intel Stratix 10 FPGAs.
DSP innovation: Only FPGA supporting hardened BFLOAT16, with up to 40 teraflops of digital signal processor (DSP) performance (FP16).
Peripheral component interconnect express (PCIe) Gen 5: The ability to scale for higher bandwidth compared with PCIe Gen 4.
Transceiver data rates: Support up to 112Gbps data rates for high-speed networking requirements for 400GE and beyond.
Advanced memory: Support for current DDR4, and upcoming DDR5, HBM, and Intel Optane DC persistent memory.
Potential Agilex FPGA users can download the multiplatform Intel Quartus Prime design software.