Intel has published its latest set of earning, for Q1 2019, and provided some further updates in a conference call with investors. In brief, the earning in the latest quarter were better than expected as Intel's recently released high performance processors have sold well, while the firm has been prudent with its spending. Following up, in a post-results earnings call, Intel said that it is still on track to have 10nm volume production at levels high enough to support the launch of Ice Lake-U systems in time for the 'holiday selling season'.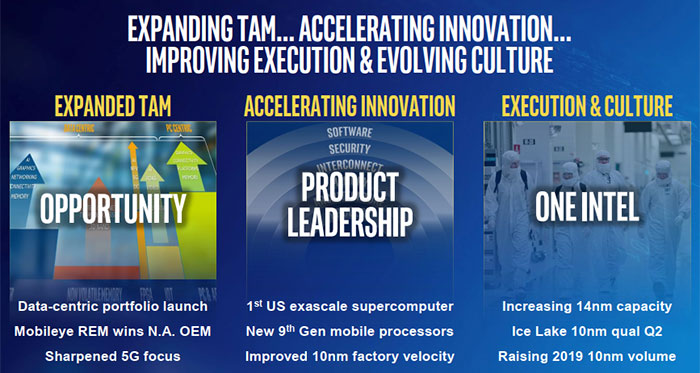 In Q1 2019, Intel raked in $16.1 billion revenue. This figure is flat YoY and while data-centric revenue dropped by 5 per cent, PC-centric revenue was up 4 per cent. Intel CEO Bob Swan said that the stronger than expected results were due to "a strong mix of high performance products and continued spending discipline while ramping 10nm and managing a challenging NAND pricing environment". Further clarification was provided on the successful 'high performance products' which encompass Intel products in "gaming, large commercial and modem".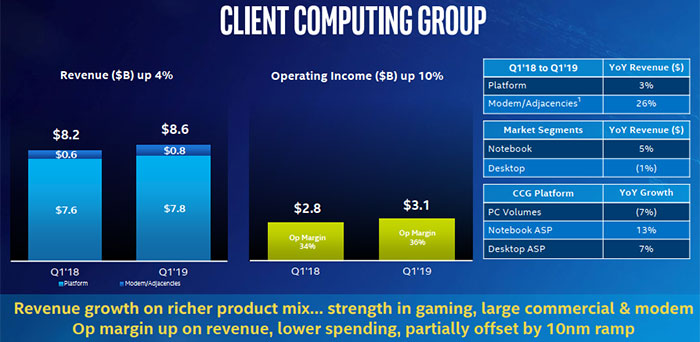 After the recent Intel roadmap slides leaked from a Dell presentation, Intel might have felt the need to comment more thoroughly on its 10nm plans. On the leaked client mobile slide we see that Ice Lake U and Ice Lake Y (both 10nm) should debut in a couple of months. The conference call cleared up that CPU qualification for these parts will complete in Q2 this year with shipments likely to start shortly after in Q3, and then systems built around these chips will be on shelves sometime in Q4 2019. Ice Lake CPUs are also of note as they feature the Sunny Cove architecture with expanded instruction support and support for LPDDR4X. Ice Lake SoCs will also be the first to ship with Intel Gen11 iGPUs.
AnandTech snipped a key 10nm statement from the conference call, as provided by Bob Swann: "On the [10 nm] process technology front, our teams executed well in Q1 and our velocity is increasing," said the Intel CEO. "We remain on track to have volume client systems on shelves for the holiday selling season. And over the past four months, the organization drove a nearly 2X improvement in the rate at which 10nm products move through our factories".
Intel expects to launch 10nm Xeon products in 2020 but unfortunately we don't have any official word on 10nm PC desktop processor release schedules.