AMD published its Q1 2017 financial results yesterday evening. There's good news and bad news here. Getting the bad news over with straight away - AMD reported an operating loss of $29 million, and net loss of $73 million, or $0.08 per share for the quarter. The good news is that in Non-GAAP calculations the operating loss was a much smaller $6 million. Furthermore, the company is striding forward positively and enjoying double digit revenue growth on the back of the recent Ryzen CPU launches.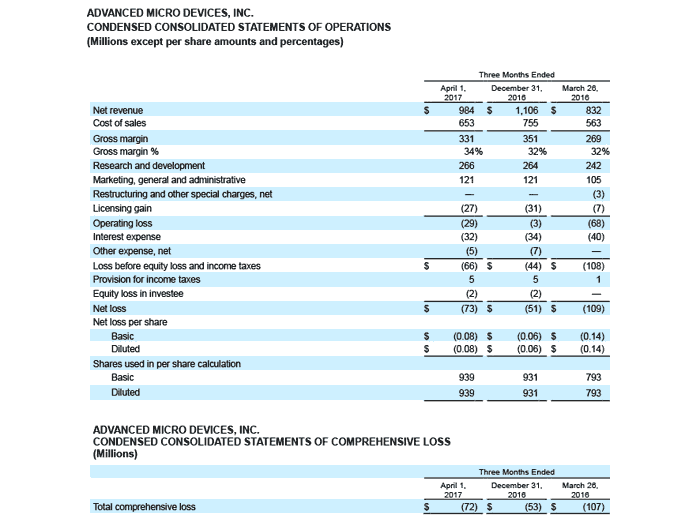 "We achieved 18 percent year-over-year revenue growth driven by strong demand for our high performance Ryzen CPUs as well as graphics processors," said Dr. Lisa Su, AMD president and CEO. "We are positioned for solid revenue growth and margin expansion opportunities across the business in the year ahead as we bring innovation, performance, and choice to an expanding set of markets."

Key financial highlights in Q1 2017 were as follows:
Overall revenue of $984 million - up 18 per cent year on year but down 11 per cent from last quarter (said to represent the usual seasonality),
Revenue from Computing and Graphics segment revenue was $593 million, up 29 per cent year on year and only down 1 per cent from the previous quarter,
Enterprise, Embedded, and Semi-Custom segment revenue was $391 million, up 5 per cent year-over-year driven primarily by higher semi-custom SoC sales,
Overall gross margin up by 2 per cent to 34 per cent,
AMD has 'cash' of $943 million in the bank, down $321 million from previous quarter mainly due to timings and increased inventory.
RX Vega confirmed for Q2 2017
AMD reminded us of the significant Ryzen 7, Ryzen 5 and Radeon RX 500 series launches during Q1 2017 - but it still has plenty of gunpowder left for fireworks in Q2.
AMD's high-performance x86 server CPU, codenamed 'Naples' will launch in the current quarter. Compared with its top competitors Naples offers "45 per cent more cores, 60 per cent more input / output capacity (I/O), and 122 per cent more memory bandwidth," claims AMD.
RX Vega is on track for launch in the current quarter confirms the financial results press release. This GPU "has been designed from scratch to address the most data- and visually-intensive next-generation workloads with key architecture advancements including: a differentiated memory subsystem, next-generation geometry pipeline, new compute engine, and a new pixel engine," we are informed.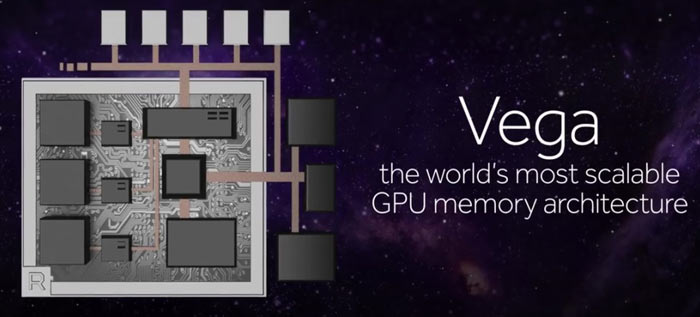 Later in the year AMD's Semi-Custom business will be churning out highly-customized AMD SoCs for the new Microsoft 'Project Scorpio' console. The console is lined up for an expected 'holiday 2017' launch.