It's complicated
At its recent investor day Intel stepped up the rhetoric on mobile. No longer is it an additional market it would like to have a piece of, mobile is now Intel's main strategic priority.
Intel's Computex keynote - taken by EVP Sean Maloney, clearly recovered from recent health problems - was mainly a reiteration of the investor day announcements, with a new notebook category thrown in.
Ladies and gentlemen, let us introduce the ultrabook (trademarked). This is another attempt by Intel to define a category, as is did successfully with the netbook. For the past few Computex shows Intel has promoted the netbook, and then the 'thin-and-light' form factors.
This looks like an attempt to unify these various mini-notebook form factors under one trademarked name, and at the same time take the fight to AMD, which is focusing on this market with its Fusion APUs and Vision consumer notebook brand. So, from now on, consumers may find themselves choosing between an ultrabook and a Vision notebook.
"At ASUS, we are very much aligned with Intel's vision of ultrabook," said ASUS chairman Jonney Shih, who clearly knows what side his MDF is buttered. "Our customers are demanding an uncompromised computing experience in a lightweight, highly portable design that responds to their needs quickly. Transforming the PC into an ultra thin, ultra responsive device will change the way people interact with their PC." Such as the UX21.
At a business level, the launch of this category is to accommodate Intel's strategic focus on the 10-20W power envelope for its notebook chips.While the ultrabook form factor is presumably inspired, to some extent, by the success of the Apple MacBook Air, much of the functionality seems to be designed with the tablet in mind. These two slides from the investor day encapsulate Intel's thinking on this matter.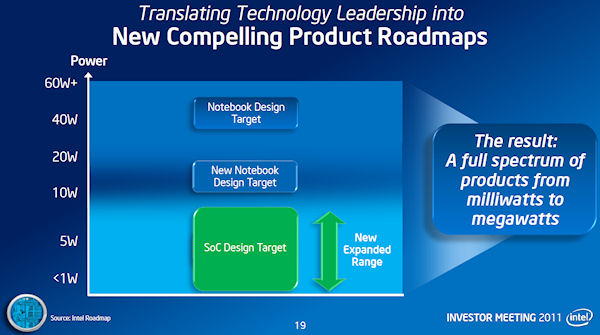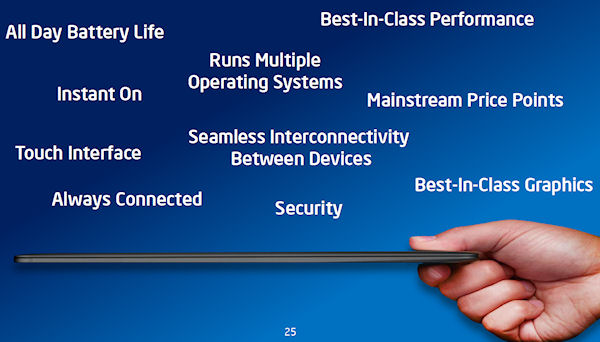 "Computing is taking many forms," said Maloney. "Technology innovation is a catalyst, and we believe the changes Intel is making to its roadmaps, together with strong industry collaboration, will bring about an exciting change in personal computing over the next few years." In other words - Intel is adapting to changes beyond its control. Intel expects 40 percent of its consumer notebooks to be ultrabooks by the end of 2012.
By that time many of them should be running 'Ivy Bridge' chips, which will be Intel's first to be manufactured on the 22 nm process, using the new tri-gate transistors. Maloney also alluded to 'Haswell', which is the code name for the new architecture that will be introduced in 2013, and will apparently reduce the amount of power needed to half of today's designs.
We also got a recap of the Atom roadmap, with a reiteration of the whole 'outpacing Moore's Law' thing that we addressed in our investor day coverage. The Cedar Trail netbook platform - which is the first Atom chip to be made on the 32nm process - got another airing, strengthening the impression that Oak Trail is already obsolete. Alsmost as if to counter that impression, Maloney highlighted ten new tablets running the Z670 chip.
Lastly Intel's troubled smartphone roadmap got a mention. Moorestown is now long forgotten and it's all about 32 nm Medfield for the time being. A Medfield design running Android Honeycomb was demonstrated for the first time, but still no sign of a product on the market.
"The work Intel is doing with the Intel Atom processor roadmap, coupled with the significant changes we are making to our Intel Core processor roadmaps, will continue to enhance Intel's ability to deliver complete hardware solutions with a choice of software platforms across a full spectrum of computing -from back-end servers that power the cloud to the billions of devices that access the cloud," concluded Maloney.