Overview
Netbooks are small, cheap Internet-centric computers that are largely powered by Intel's Atom CPU and a variety of associated chipsets that house integrated graphics and I/O functionality.
The majority of current netbooks ship with a 10in screen, either a small-capacity SSD or larger mechanical hard drive, and weigh between 900g and 1,400g. With portability high on the list of criterion, netbooks generally do without an optical drive, though.
The next generation of netbooks, to be released in early 2010, will provide greater differentiation and sophistication, further blurring the line between netbook and ultra-portable notebook.
What's more, the silicon guts of a netbook – CPU, chipset, graphics – will be provided by than one manufacturer, including non-x86 support from ARM Technologies, a specialist in low-power CPU design.
With that in mind, we examine what's in store for netbook purchasers in 2010.
The status quo
Generalising to a degree, a mid-range netbook's specification is remarkably similar across a broad range of manufacturers, including ASUS; Acer; HP; Samsung; Dell; MSI; Lenovo; Toshiba; Sony, and Medion. The one technology heavyweight that's yet to debut a netbook is Apple, however.
Specification-wise, a vast number of netbooks currently take in an Intel Atom N270 CPU (1.6GHz), Intel 945GSE chipset with GMA950 graphics, 1GB DDR2 RAM, medium-capacity mechanical hard drive, 802.11b/g wireless and 10.2in screen with a native resolution of 1,024x600. Intel mandates certain specifications for Atom-powered netbooks – screen size, for example – to stop manufacturers from cannibalising the traditional notebook market by offering the cheaper Atom chip(s) in larger chassis.
Backed up by Microsoft's XP Home operating system, the typical netbook costs between £200-£250. Cheaper models feature small-capacity SSD storage, smaller screens and Linux operating systems, whilst more-expensive models, costing up to £400, use better-looking materials and longer-lasting batteries as standard.
Out-of-the-box battery life can vary between two and seven hours, depending upon the manufacturer's power-saving implementation and, of course, battery capacity.
The Intel Atom and Microsoft XP combination constitutes around 80 per cent of netbooks that are currently sold, and research has indicated that more than 20m netbooks will be shipped in 2009. Clearly, Intel and Microsoft have significant vested interests in keeping the nascent category to themselves, but there's competition on the horizon.
Whilst Intel dominates the supply of chips for netbooks, VIA Technologies has a competing solution dubbed Nano. The also-x86 processor – analogous to saying that it can run Windows – performs a little better than single-core Atom but higher power requirements and, frankly, a lack of marketing power means that it's nowhere near as popular.
How will it change - Intel
Leveraging on the success of netbooks, especially the low-end models, Intel will revise its current in-place architecture – CPU, northbridge, and southbridge – to a new platform that integrates the graphics and memory-controller component of the supporting chipset directly on to the CPU.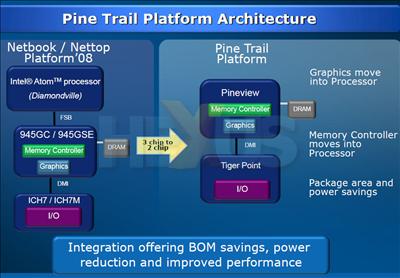 Conjecturing somewhat, the greater integration of the Pine Trail platform should provide for a lower manufacturing cost – two chips instead of three – and lower power requirements by around 50 per cent for the same level of performance, leading to better battery life.
Netbooks based on the Pine Trail platform will be available in Q1 2010, according to the latest reports, but what is not known is whether the new platform will provide a greater array of features – high-definition video-decoding assistance, for example.
Time for a different architecture?
The netbook may not be an Intel/Microsoft preserve for long, however. From a hardware point of view, a long-time leader in the design of (really) low-power computer chips is UK-based ARM Technologies. The company designs chips that are taken on by partners who can add their own specific features – hardware-based video acceleration or 3G, perhaps – to a finished product known as a system-on a-chip (Soc). Qualcomm and Samsung are two notable partners who leverage ARM technology.
ARM may not be familiar to many readers but its IP is found in high-profile devices such as Apple's iPhone 3GS, Palm's Pre, and an abundance of Nokia handsets. Near the top of ARM's range is the Cortex A8 CPU, and it's this chip that's found on the Pre and on a Qualcomm-produced platform known as SnapDragon, which also incorporates high-definition hardware; WiFi; Bluetooth; and GPS. The Toshiba TG01 smartphone/mobile Internet device is the first be powered by SnapDragon.
ARM – the rise of smartbooks.
ARM is looking to encroach on the netbook space by having devices powered by its Cortex A8 chip, most likely through the Qualcomm SnapDragon SoC platform. Thinking about netbooks and the need for low power and longer battery life, ARM reckons a Cortex A8-equipped machine can deliver the same clock-for-clock performance as an Intel Atom CPU but with significantly less power-draw, to the tune of 2x of forthcoming Intel Pine Trail. It promises seamless HD playback via dedicated chips on the SoC – a feature that is missing on the majority of present Intel-powered netbooks.
Indeed, the company is keen to differentiate its vision from incumbent netbooks by branding its machines as smartbooks. Thinking about ARM-powered smartphones, that would mean always-on connectivity, HD playback, sleek form-factors, and day-long battery life.
Smartbooks should look similar to netbooks, though, sporting an 8.9in screen, netbook-esque keyboard, and weigh <850g. They should be cheaper to purchase, too, as the heavily-integrated ARM-based SoC will cost less to manufacturers than the Intel Atom (Pine Trail) combination. ARM is citing a consumer price of under £150 for a fully-fledged smartbook.
Drawbacks?
Cheaper, lighter, thinner, HD-capable smartbooks with day-long battery life appear to be the perfect riposte to Intel's next-generation netbook architecture. From a pure hardware perspective that may well be so, but such is ARM's CPU architecture – based on a reduced instruction set computers (RISC) - that it is not able to run any form of Microsoft Windows designed for consumer PCs (Windows Mobile excepted).
Potential customers used to Microsoft's operating systems may be put-off by the fact that OS support is not available, even for upcoming Windows 7, whose Release Candidate (RC) has garnered favourable reviews across the web. Microsoft would have to spend significant resources in porting Windows over to the ARM architecture, together with alienating one of its biggest customers, Intel.
That is not to say ARM's efforts to break into the lucrative netbook/smartbook market will stall at the first attempt. A number of operating systems provide support for ARM's architecture, and the list includes various Linux derivatives. Google's Android is one such open-source derivative that's likely to be paired with ARM-powered machines, as it's, at the time of writing, already provided on a select number of high-end smartphone handsets.
The fight that's yet to come
The Intel and Microsoft duopoly commands the lion's share of current netbook shipments. This situation will continue with the release of a lower-power Intel architecture that's due to debut in Q1 2010. As a result, consumers are likely to see cheaper, thinner and lighter netbooks that purport to have better battery life. These portable notebooks, in the main, will continue to be powered by Microsoft's XP or 7 operating systems.
The competition for the guts of the 2010 netbook will come from an unexpected source, we reckon. Rather than AMD or VIA – established x86 chip designers – architect a low-power chip to go up against Intel Pine Trail, we foresee the stiffest test coming from ARM, the already-established low-power expert. Its Cortex A8 CPU can be married on to a system-on-a-chip for complete integration in a (relatively) inexpensive platform. Add this to an open-source, free operating system such as Google's Android and there remains the tantalising possibility of a netbook-beating device that's cheaper and lighter. Think of it as a larger-screened smartphone, as the main technology is already proven and in-place.
Small, cheap computers have an uncertain future as far as the underlying hardware is concerned. It seems as if Intel will thrash it out with ARM, whilst Microsoft spars with Google. Whatever the outcome, the winner will be the consumer, who should have an embarrassment of choice in 2010.
Looking a little farther down the line, NVIDIA may well get in on the netbook act by mating its GPU know-how with a multi-core chip (Cortex A9) from ARM. The future's thin; the future's light.