The ASUS Eee Top
We'll start with aesthetics. Take the ASUS Eee Top ET1602 out of its well-packaged box and you're presented with a trendy-looking system that resembles Apple's older pre-Aluminium iMac systems. Available in white or black, the Eee Top's glossy plastic finish gives it a likeable sense of style and overall build quality is of a high standard.
Smoothly-rounded edges, a built-in adjustable stand and potentially only one or two cables connected to the rear. This is a system that's designed to fit well into any room in the home - indeed, a nettop may be best suited as a second computer and we'll explain why shortly.
The all-in-one's display is a 15.6in touchscreen LCD that provides a 1,366x768 resolution - ample for a screen of this size, but we'd love to see a 17in model as smaller desktop systems simply feel cramped in this day and age. Though, perhaps it should be noted that my regular choice of displays is a 30in PC monitor or a 50in Plasma TV - coming from either of those, the Eee Top is bound to feel small and takes some getting used to.
Sitting above the display is a 1.3 megapixel webcam and built-in microphone. It's a far cry from the HD-quality webcams now available, but it's decent enough in well-lit surroundings.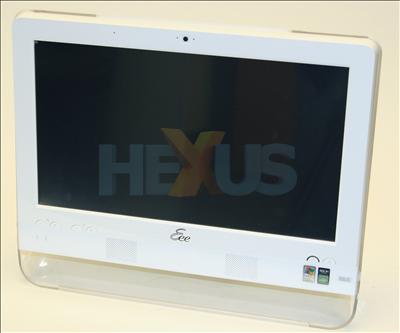 Underneath the display, six semi-circle buttons don the Eee Top's front face - volume up and down, brightness up and down, power on/off and display on/off. Each is well presented and adequately responsive - and the blue-LED surround on the power on/off is a nice-but-subtle touch.
Below said buttons are a pair of built-in stereo speakers that despite their 4W rating provide a surprisingly-decent sound output. It won't shake a room, of course, but it's perfectly acceptable for music playback or online video from the likes of BBC iPlayer.
Finishing off the smooth frontal appearance is a transparent plastic stand that illuminates in an unnecessary blue when powered on. It's personal preference, of course, but bright-blue illumination on such a refined system it a touch too gaudy for our liking. Fortunately, its brightness can be turned down or completely off.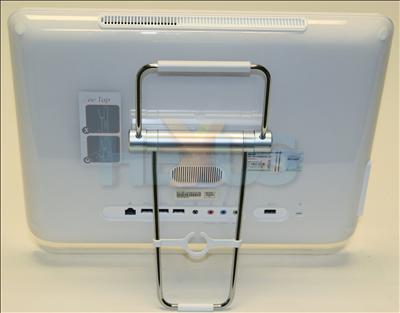 Flip over to the rear of ASUS' small-and-slim system and you'll find its all-in-one spring-loaded stand and carry handle. What's useful, either purposely or by accident, is that the carry handle conveniently acts as a holder for the bundled keyboard.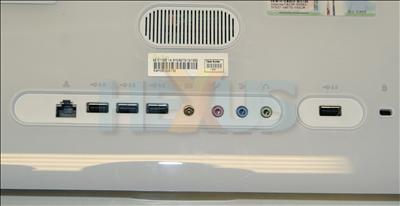 Connectivity options come in the form of Gigabit Ethernet, four USB ports, power in, a trio of audio ports (microphone, line-in and headphone), and a Kensington lock.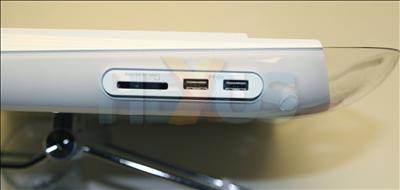 Supplementing those at the rear are two additional USB ports and a multi-card reader on the left side of the system.