Specs. and initial thoughts
Let's take a look at system specifications and then evaluate the 3XS Isotope against similar systems.


| | |
| --- | --- |
| System Name | SCAN 3XS ISOTOPE |
| Processor | AMD Athlon 64 4000+, 2.4GHz, 1MB L2 cache |
| Motherboard | Foxconn/WinFast nForce4 |
| Memory | 1GB (2x512MB) Corsair XMS3200XL matched RAM (2-2-2-5 @ DDR400) |
| Hard Drive | Maxtor DiamondMax Plus 10 250GB SATA, 7,200RPM - 16MB cache |
| Screen | None as specified, optional extra |
| Graphics card | NVIDIA GeForce 6800 GT, PCI-Express x16. 350/1000, dual-DVI |
| Optical drive #1 | NEC ND-3520A 16x multi-format, dual-layer DVD ReWriter |
| Optical drive #2 | None |
| Back I/O | 4x USB2.0, RJ45 (GbE), PS/2, 3 audio ports, Parallel and COM |
| Sound | nForce4 routed via Realtek ALC655 CODEC |
| Speakers | None (optional extra) |
| Modem | None |
| Network | Realtek RTL8169 GbE Ethernet controller (PCI-based) |
| Wireless Connectivity | None |
| Operating system | Windows XP Professional w/SP2 |
| Warranty | 1-year onsite (parts and labour) followed by 2 years RTB parts and labour |
| Software | TBA |
| Price | £1233.19 + VAT (£1449.00 inc.) as at 18/04/2005 |
| Other notables | Pre-modded custom chassis. FireWire, lights |


Looking at the above specifications, you'd immediately think that it's a high-end PC with a number of juicy components, including AMD's Athlon 64 4000+ and a dual-DVI GeForce 6800 GT PCIe x16 graphics card. You'd be right, but SCAN has made the presentation just as important as the innards. Want to see how?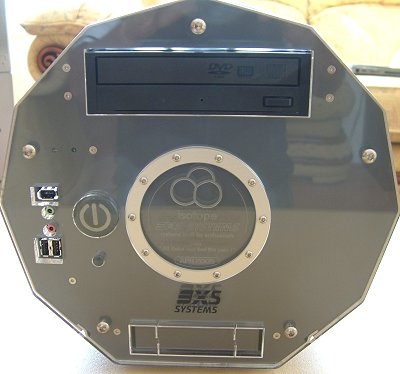 It's not a regular base unit and neither is it quite a small form-factor PC. SCAN has taken an 11-sided custom case (the shape's called a undecahedron, in case you were wondering), added in a bunch of LANtastic touches such as incorporating a carrying handle on the top, adding windows to either side, and pre-installing what amounts to a light show inside. Attentive gamers may already have seen this chassis promoted this month. SCAN is supplying 25 pre-built ISOTOPE rigs for the ACON5 gaming finals taking place at Uttoxeter racecourse this weekend. Following that, the ISOTOPE chassis will be used for a wide range of SCAN-built machines that feature both AMD and Intel CPUs. The actual chassis, it transpires, is provided by PYP3. Individuality even extends to the possibility of the date of manufacture being imprinted in the central ring-like section. The review model was dated April 2005 and had a corny subtitle. "Baka - sit baka and feel the pain!"

Taking the front first, much like SFF PCs, there's only space for a single optical drive. SCAN's added in a black NEC ND-3520A multi-format, dual-layer DVD ReWriter that, like most, also serves as a competent DVD-ROM and CD-RW drive. Aesthetically-speaking, it would have been better if the drive was stealthed behind a drop-down cover, much in the vein of a number of regular SFF systems. The same goes for front-accessible connectivity, which, in this case, amounts to 2x USB2.0, a single FireWire400 port, mic-in and a headphone output.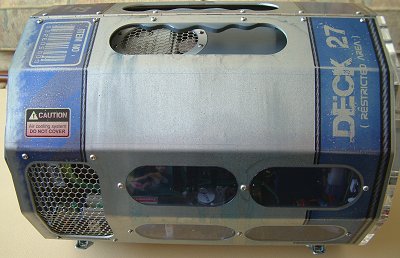 A shot of the left-hand side highlights the individual nature of the chassis. The distressed look is absolutely intentional. Kind of DOOM 3-ish. Aesthetics are always difficult to judge objectively. You may think it looks like some kid's toy, or it may appear to be the best-looking case you've even feasted your eyes upon. Looks aside, the design has been thought out. There's a mesh section on either side that facilitates cooling, and four mini-windows allow you to peer inside.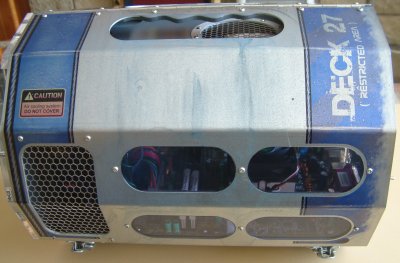 There's not much different when looking at the ISOTOPE from the other side.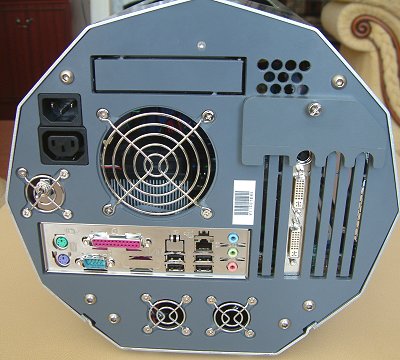 The rear of the chassis is also highly irregular. It's a combination of a normal base unit morphed with a SFF PC's. Connectivity-wise, there's 4 USB2.0 ports, Parallel, Serial, PS/2, 3 audio ports for 6-channel sound. Note the dual-DVI graphics card on the right; it's a GeForce 6800 GT PCI-Express x16 version. The single switch, on the right-hand side, activates the ISOTOPE's lighting system.