Introduction
Crucial has been a champion of releasing high-quality solid-state drives (SSDs) with a particular emphasis on reliability and price. This year's consumer catalogue contains two new entrants - the performance MX200 and budget BX100 that are both available in capacities up to 1TB.
We took a look at the 500GB MX200 the other week and surmised it was a decent drive that shipped with a reasonable price tag - £175 for the half-terabyte model. The BX100, meanwhile, ups the ante in terms of value by using more cost-effective components. Here's how the various BX100 drives stack up against one another.
Crucial BX100 SSD Series

Model

120GB

250GB

500GB

1TB

Controller

Silicon Motion SM2246EN

NAND

16nm Micron MLC NAND

Dynamic Acceleration

No

Interface

SATA 6Gb/s, compatible with SATA 3Gb/s and 1.5Gb/s

Sequential Read Speed

up to 535 MB/s

up to 535 MB/s

up to 535 MB/s

up to 535 MB/s

Sequential Write Speed

up to 185 MB/s

up to 370 MB/s

up to 450 MB/s

up to 450 MB/s

Random IOPs (4KB Reads)

up to 87K IOPs

up to 87K IOPs

up to 90K IOPs

up to 90K IOPs

Random IOPs (4KB Writes)

up to 43K IOPs

up to 70K IOPs

up to 70K IOPs

up to 70K IOPs

Available Form Factors

2.5in

Active Power Consumption

150mW Typical

Idle Power Consumption

<100mW Typical

Life Expectancy

1.5 million hours MTBF

Endurance

72TB (TBW)

Warranty

3 Years

Current Retail Price

£56

£85

£160

£320
The first obvious departure is with Crucial using a Silicon Motion controller instead of the Marvell powering the various MX series of SSDs. Though the vast majority of the cost of a drive rests with the flash memory, which is subject to price volatility, opting for a different controller manufacturer pays dividends at the bottom end of the pile.
The SI controller can access four channels - or half that of the Marvell present on the MX200 - but, according to specifications, each channel can push 400MB/s. As usual, evaluated in terms of straight-line performance, the SATA interface will be the limiting factor for the larger-capacity drives.
You can normally determine truly budget drives by looking at the writing capability of the smallest SSDs. The 120GB model has a peak writing speed of just 185MB/s but this rises quickly to 370MB/s for the 250GB that, we imagine, will be the volume seller.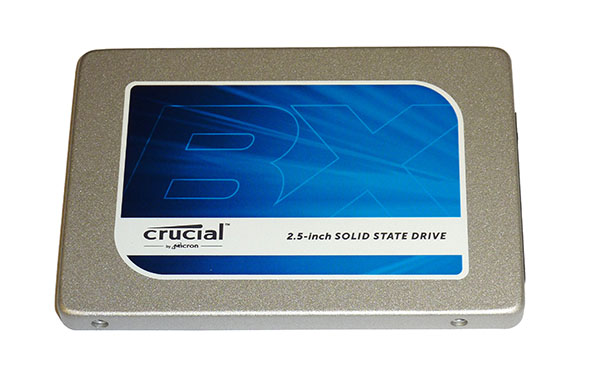 Crucial continues to bundle a 7mm-9.5mm adapter and the useful Acronis True Image HD software for easy migration of data between drives. The 500GB drive, the review model, looks practically identical to various Crucial SSDs that have gone before, with a simple logo on the front of the grey aluminium chassis.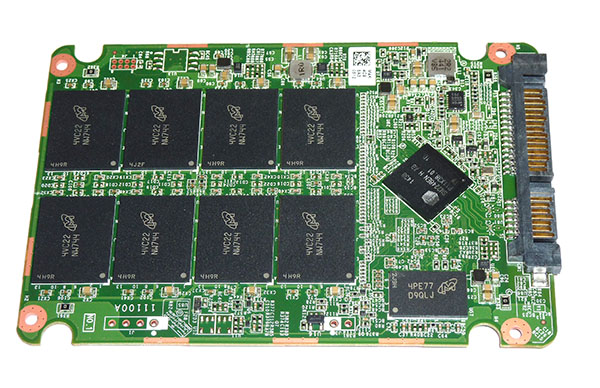 Inside, 8 quad-die chips make up the quoted 500GB capacity and are laid out on the front of the simple single-sided PCB. Like before, the controller is backed by its own 512MB of cache from parent company Micron.
Yet the use of a different controller does have an impact on overall desirability. For example, the Silicon Motion SN2246EN is bereft of the hardware-accelerated encryption of its bigger brother or, for that matter, performance-boosting SLC NAND flash in what Crucial calls Dynamic Write Acceleration - useful for smaller-capacity SSDs. Longevity, too, isn't as strong, but these are obvious compromises to pay for a lower price point.