Introduction
Crucial shook up the solid-state drive (SSD) market last year by launching the value MX100. Value was laced with a few enterprise-class features that improved reliability for entry-level drives.
Nine months on sees the release of the MX200, focussing on the same value and reliability features but offering extra performance and some nifty caching technology, dubbed Dynamic Write Allocation, on the trio of drives. Here's how they stack up.
Crucial MX SSDs

Crucial MX200 SSD Series

Crucial MX100 SSD Series

Model

250GB

500GB

1TB

512GB

Controller

Marvell 88SS9189

NAND

16nm Micron MLC NAND

NAND Packages

8

8

16

16

Die per NAND Package

2

4

4

2

Total Number of Die

16

32

64

32

Total Drive Capacity

256GB

512GB

1,024GB

512GB

Onboard DDR3 Cache

256MB

512MB

512MB

512MB

Dynamic Acceleration

Yes

Yes (not needed)

Yes (not needed)

No

Interface

SATA 6Gb/s, compatible with SATA 3Gb/s and 1.5Gb/s

Sequential Read Speed

up to 555 MB/s

up to 550 MB/s

up to 550 MB/s

up to 500 MB/s

Sequential Write Speed

up to 500 MB/s

up to 500 MB/s

up to 500 MB/s

up to 500 MB/s

Random IOPs (4KB Reads)

up to 100K IOPs

up to 100K IOPs

up to 100K IOPs

up to 90K IOPs

Random IOPs (4KB Writes)

up to 87K IOPs

up to 87K IOPs

up to 87K IOPs

up to 85K IOPs

Available Form Factors

2.5in / mSATA /M.2

2.5in

2.5in

Active Power Consumption

150mW Typical

Idle Power Consumption

<100mW Typical

Life Expectancy

1.5 million hours MTBF

Endurance

80TB (TBW)

160TB (TBW)

320TB (TBW)

72TB (TBW)

Warranty

3 Years

Current Retail Price

£95

£175

£370

£160
Crucial uses the same Marvell 88SS9189 controller and 16nm 128Gbit dice as on the MX100 predecessor. Continuing development in SSD density and reduction in cost means it's semi-pointless selling 128GB drives; capacities, therefore, begin at 250GB and rise to 1TB. The two smaller drives are also available in M.2 (2260 and 2280 sizes) and mSATA flavours for laptops and NUC-style PCs. It will come as no surprise that Crucial continues the theme of basing consumer drives on the latest Micron (parent company) SSDs; the M600 is the design blueprint for the MX200.
You may notice that the MX200 shaves a little user-accessible capacity in favour of longer-term reliability and higher performance. The trio of new drives is specified at a speedy 555MB/s read and 500MB/s write potential throughput, which is impressive for a 250GB model. Keeping the speed up is new technology dubbed Dynamic Write Acceleration that can use any spare NAND in performance single-bit-per-cell SLC mode rather than the usual two-bits-per-cell MLC. Though this cuts into capacity, the use of dynamic SLC should provide a nice up-tick in performance.
It's good to see that drive endurance has increased from generation to generation, and Crucial is confident enough to double the total bytes written as capacity also doubles. Even the smallest-capacity drive is specified with 80TB TBW, which breaks down into 44GB writes per day for five years. Increasing the capacity to 1TB means that 175GB can be written per day. Endurance, then, is handsome for an entry-level drive. Such figures bode well for longevity of 16nm Micron NAND, too, where, thinking of it from another angle, each drive can be fully program-erased approximately 1,500 times.
On the reliability and security front, just like the MX100, Crucial bakes in support for TCG Opal 2.0 and AES 256-bit encryption making it compatible with Microsoft's eDrive standard contained within Windows 8. Crucial is also now matching competitors by offering an SSD-monitoring utility in the form of Storage Executive.
Faster speeds for smaller-capacity models, better endurance, a higher potential IOPs throughput, and the provision of a 1TB model mark out the MX200's advantages over one of the best value drives of last year. We have the 500GB MX200 model in for review today.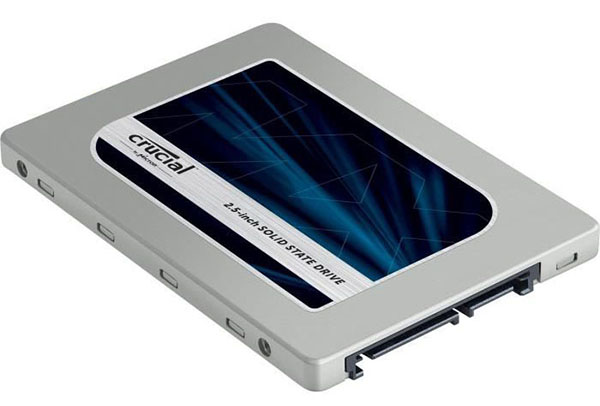 Crucial continues to bundle a 7mm-9.5mm adapter and the useful Acronis True Image HD software for easy migration of data between drives. The MX200 looks practically identical to various Crucial SSDs that have gone before, with a simple logo on the front of the grey aluminium chassis. Inside, there are no notable differences between it and the MX100 - both use the same controller and, for the 500/512GB models, the same 16nm NAND.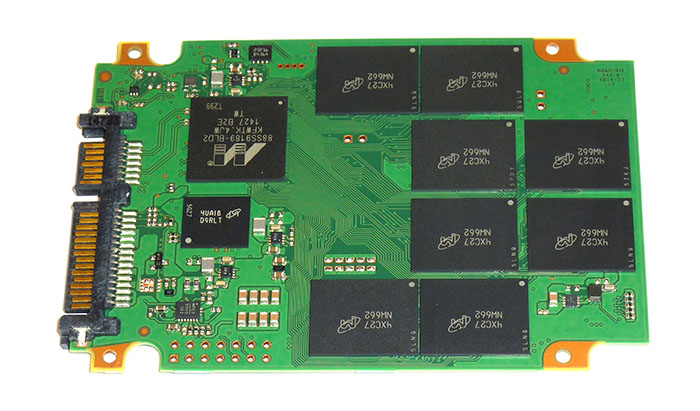 Eight quad-die chips are laid out on the front of the simple single-sided PCB. Like before, the controller is backed by its own 512MB of cache from parent company Micron.