Aiming for NAS supremacy

The perfect NAS has to have the right blend of hardware and software. After all, anyone can pick up the essential hardware components and build a server of their own. So it's up to NAS manufacturers to stay ahead of the game in the software department with an operating system that's up-to-date, intuitive, powerful and worth the investment.
It's an area in which the main Taiwanese players are constantly battling it out, and this month Qnap is hoping to get one over the likes of Asustor, Synology and Thecus with the launch of a brand-new operating system dubbed QTS 4.0.
The long-awaited release promises "an unprecedented NAS management experience," but to the frustration of existing Qnap customers, QTS 4.0 isn't yet available as an upgrade for existing Turbo NAS products. For the time being, at least, the revamped software is being introduced as a key selling point for two new product lines; the TS-x21 series and the TS-x20 series.
The diskless four-bay TS-421, pictured above, is under the review spotlight today. Priced at around £400 and aimed at home-office users, this box is positioned at the lower end of Qnap's product range, making it a surprise choice to debut alongside the new software. And going by appearances alone, it's the software that holds the biggest surprises; the hardware has a very familiar Qnap feel about it.
Familiar hardware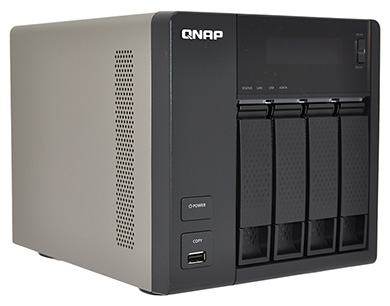 Sporting a chassis that's almost identical to last year's high-end TS-469 Pro, the more affordable TS-421 still measures 235mm x 180mm x 177mm in size (DxWxH) and continues to carry a black plastic fascia resting on a grey body. The useful LCD display has been carried across, as has the front-facing USB port with support for one-touch copy. A handy feature to have, but it's a shame this forward port isn't of the SuperSpeed 3.0 variety, and eagle-eyed readers will note that the four drive trays have also been downgraded; they continue to support your choice of 2.5/3.5in disk, but on the TS-421 they're no longer lockable.
Around back, Qnap provides two eSATA ports, dual Gigabit Ethernet with support for failover and link aggregation, two USB 3.0 ports, a further USB 2.0 port and a connector for the bundled 120W power supply. Instead of integrating the PSU into the chassis, Qnap has taken the less-desirable route and bundled an external brick.
A single 90mm fan is tasked with cooling the entire unit, and though it's perfectly capable, users should note that swapping the included fan for an extremely-quiet alternative isn't advisable; opening the chassis at all will void the two-year warranty.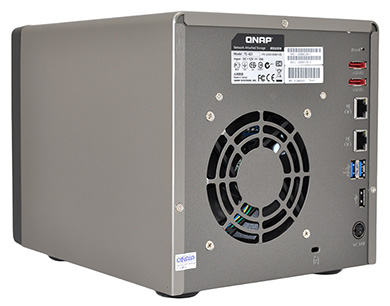 There's little to write home about externally, but the interior components do raise a few questions. With the home-user in mind, Qnap has chosen to equip the TS-421 with a single-core Marvell processor clocked at 2GHz, 1GB of DDR3 memory and last-generation SATA 3Gbps connectivity. The processor as far as we can tell is identical to the 2011 TS-419P II, and though the amount of memory has doubled, we suspect the TS-421 will struggle to maintain a high level of performance.
Don't, however, expect to find many shortcomings in the feature list. As is often the case with a Qnap NAS, the TS-421 has a dazzling array of configuration options and usage scenarios. Windows, Mac and Linux clients are all of course supported, as are RAID modes 0, 1, 5, 6, 10 and 5 + Hot Spare. Online expansion and migration is available, and there's more than enough to keep most office users occupied; including support for multiple LUN and iSCSI targets, virtualised server environments, Microsoft Active Directory, and a wide range of backup solutions that encompass Apple Time Machine, remote replication and cloud storage.
There's a lot to take in, and we encourage would-be buyers to peruse the official product page to explore all that the TS-421 purports to do, yet despite the lofty feature set, Qnap claims the TS-421 is designed to "demystify the NAS for home users." The driving force behind this transition is a suite of revamped software.