Introduction
Here at HEXUS we get inundated with people asking one particular question; 'which upgrades should I get?'. And it's interesting to see the way in which our replies evolve as new components become available.
Earlier this week, we had a guy bring in a two-year-old Windows 7 PC that wasn't running as quick as he'd hoped. He didn't want to make any major changes - re-installing the OS wasn't an option - and he didn't want to spend a lot of money. We put forward a few ideas, but the one that seemed to carry the most appeal was to add a cache SSD. Talking specifics, we suggested a 30GB Corsair Accelerator - it's a £45 upgrade, requires little tech know how and will instantly make a hard-disk-based PC feel faster.
SSD caching solutions, it seems, have come a long way. With prices falling, these simple-to-install upgrades have become a viable option for just about anyone. And as we've seen from the current crop of available solutions, the potential gain in performance can be significant.
As far as low-cost upgrades are concerned, they don't come much better than SSD cache drives. But are they all as good as each other? OCZ's Synapse proved to be quick and Corsair's Accelerator proved to be affordable, but today we're turning our attention to the third big contender; the Crucial Adrenaline.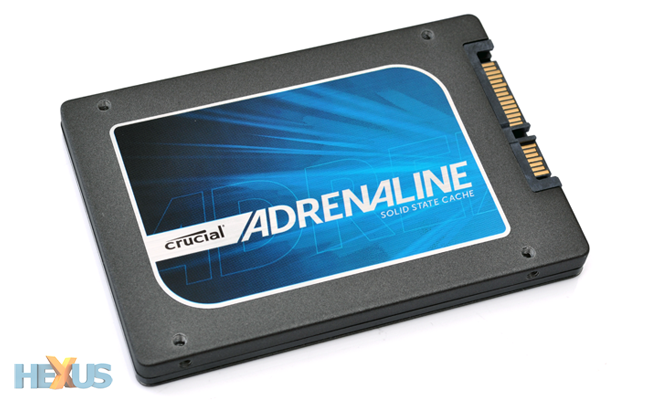 Crucial's got a good thing going with its award-winning line of m4 SSDs, so it's no surprise to see the manufacturer adopting the same technology for its first cache solution. The Adrenaline is, for all intents and purposes, a 64GB m4 SSD used in a different way.
Interesting to note that while rival manufacturers offer cache solutions in various shapes and sizes, Crucial's keeping it simple - there's only one Adrenaline drive, it comes in a 50GB capacity, carries a SATA 6Gbps interface and costs £75.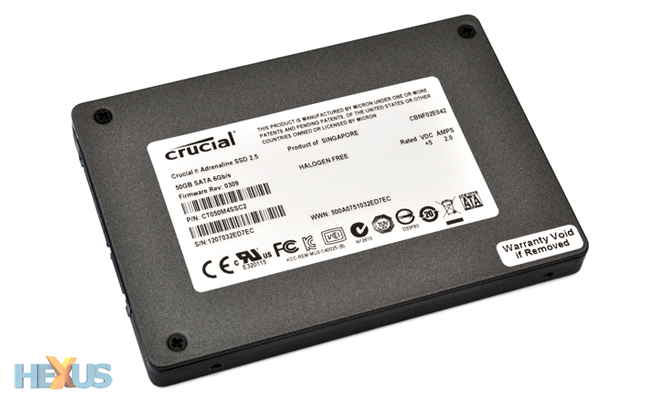 We're liking the one-size-fits-all approach, but Adrenaline pricing can appear a little steep alongside the competition. Although Crucial's drive is equipped with a forward-looking and high-performance SATA 6Gbps interface, consumers searching for an ultra-cheap upgrade may steer towards Corsair's SATA 3Gbps option, the Accelerator.
Adrenaline pricing isn't quite as keen as we'd hoped, but Crucial scores bonus points for a well-rounded bundle that includes a 3.5in mounting bracket and a SATA 6Gbps cable. Just about everything you need to get the drive plugged in and operational, though, to configure the cache you will need to download the software from Crucial's website - it isn't available on disc.
The bundle's good, but it's the internal configuration that makes Crucial's Adrenaline truly different to Corsair's Accelerator and OCZ's Synapse. Whereas the aforementioned two are based on SandForce processors, Crucial's cache relies on the rival Marvell chip.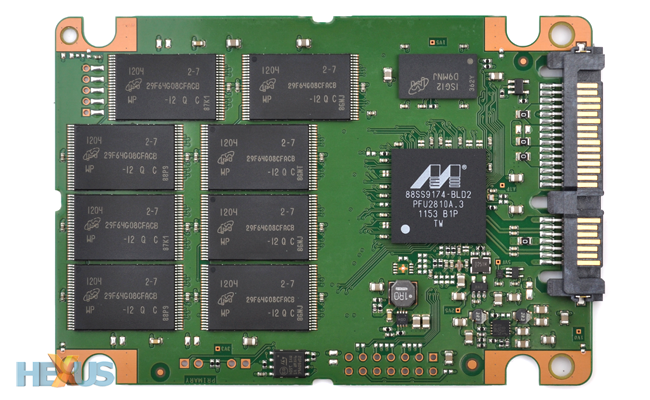 Look familiar? The Adrenaline's make-up is practically identical to that of the 64GB m4 SSD - it features a Marvell 88SS9174-BLD2 processor paired with eight 8GB Micron 25nm synchronous NAND devices.
The drive's physical capacity is therefore 64GB (the same as the m4 SSD), but some of that is set aside for over-provisioning, leaving the user with an actual cache size of 50GB. In the interests of full disclosure, Crucial markets the drive as a 50GB solution.
| | Cosair Accelerator 30GB | Corsair Accelerator 45GB | Corsair Accelerator 60GB | OCZ Synapse 64GB | OCZ Synapse 128GB | Crucial Adrenaline 50GB |
| --- | --- | --- | --- | --- | --- | --- |
| Processor | SandForce SF-2141 | SandForce SF-2181 | SandForce SF-2181 | SandForce SF-2281 | SandForce SF-2281 | Marvell 88SS9174-BLD2 |
| Interface | SATA 3Gbps | SATA 3Gbps | SATA 3Gbps | SATA 6Gbps | SATA 6Gbps | SATA 6Gbps |
| Actual Cache Size | 30GB | 45GB | 60GB | 32GB | 64GB | 50GB |
| Max. Sequential Read Speed | 280MB/s | 280MB/s | 270MB/s | 550MB/s | 550MB/s | 500MB/s |
| Max. Sequential Write Speed | 260MB/s | 260MB/s | 240MB/s | 490MB/s | 510MB/s | 95MB/s |
| Warranty | 3 Years | 3 Years | 3 Years | 3 Years | 3 Years | 3 Years |
| Price | £45 | £60 | £65 | £70 | £125 | £75 |
Putting six of the available options side-by-side, we can see that the Adrenaline is intriguingly positioned. The drive's high-performance SATA 6Gbps interface could be enough to justify the added expense over a Corsair Accelerator, and though it costs £5 more than the cheapest OCZ Synapse, it offers a far larger cache.
OCZ's SandForce solution has the edge in terms of raw sequential throughput, but that performance advantage may be negated by the Marvell controller's ability to work well with incompressible data sets. Reading between the lines, these drives are essentially the Crucial m4, OCZ Agility and Corsair Force Series 3 repackaged for a different purpose - the hardware is something we've seen before, but it's the accompanying software that makes the products unique.