Introduction
Second-generation solid-state drives (SSDs) based on a new-and-improved SandForce controller are arriving thick and fast, but from what we've seen thus far, it's clear that not all SF-2281-based drives are made equal.
OCZ has attempted to cover all bases with its extreme (Vertex 3 Max IOPs), high-end (Vertex 3) and mid-range (Agility 3) models, and Corsair has also put forth two interesting propositions - the competitively-priced Force Series 3 for everyday performance, and the extreme Force GT for those who demand maximum performance.
Next in line to join the second-generation SandForce festivities is Patriot Memory, who has opted to throw caution to the wind and come out firing on all cylinders with the aptly titled Wildfire.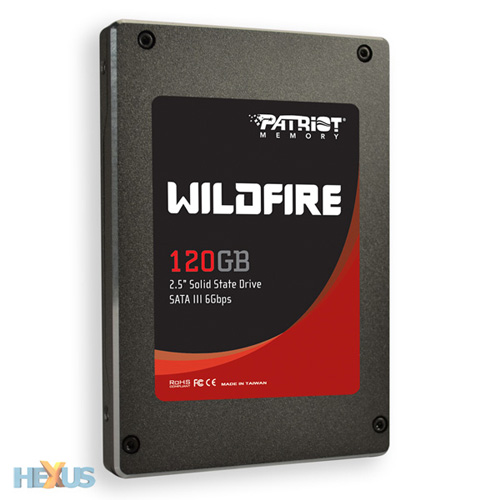 The SATA 6Gbps drive, initially available in 120GB and 240GB capacities, claims to offer "enterprise-class performance in your personal PC" at a cost of roughly £240 and £420, respectively.
That's a substantial outlay for what hard-disk owners would call a few measly gigabytes, but the Wildfire offers plenty of power for your pound. Underneath its sleek 2.5in frame, a SandForce SF-2281 controller is at hand to provide read and write speeds of up to 555MB/s and 520MB/s, respectively, while the maximum number of random 4K writes is rated at an astonishing 85,000 IOPs.
The numbers are undoubtedly quick, but they're not too dissimilar from those attached to competing SandForce drives, so what, if anything, will set the Wildfire apart?
It's all in the NAND
Getting inside the Wildfire's metal enclosure tells us a bit more about the drive, and it's the 32nm multi-level-cell NAND flash memory that first catches the eye.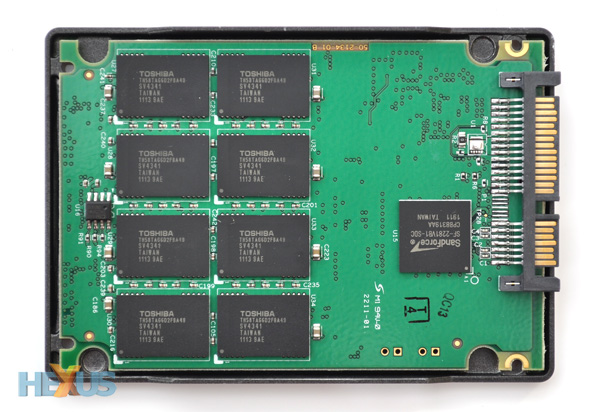 Unlike the recently-reviewed Corsair Force Series 3 - which pairs the SandForce chip with affordable 25nm asynchronous NAND - Patriot has decided to utilise Toshiba's performance-orientated 32nm Toggle Mode NAND. Armed with an interface capable of up to 133 megatransfers/second2, Toshiba's 32nm NAND flash memory should be faster than conventional asynchronous memory, making it ideal for high-performance SSDs.
The same Toggle Mode NAND flash memory can be found in OCZ's ultimate SATA 6Gbps SSD - the Vertex 3 Max IOPs - and this combination of NAND and controller appears to be the preferred choice for top-tier SandForce drives.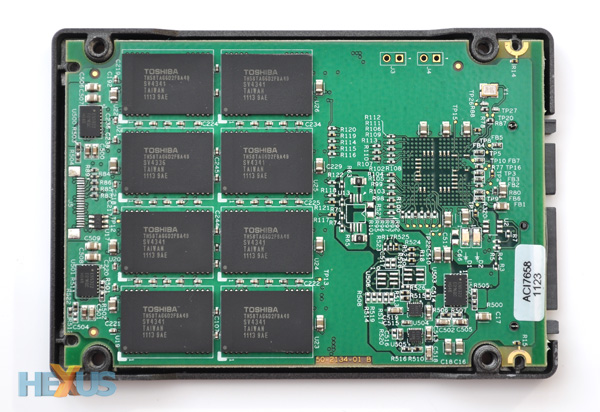 As pictured above, Patriot's 120GB Wildfire SSD is equipped with a total of 16 Toshiba memory chips (each weighing in at 8GB), providing a total drive capacity of 128GB.
In keeping with all other second-generation SandForce drives, the SF-2281 controller offers built-in support for Windows 7's TRIM command and 256-bit AES encryption, as well as DuraWrite technology - an on-the-fly compression algorithm that reduces the size of the data written to the drive. Intelligent block management and wear leveling are included to help extend the life of the drive, and in a similar vein, one of the drive's 8GB flash memory devices is reserved exclusively for RAISE - a RAID-like protection mechanism integrated into the SandForce controller to protect against flash block failures. What's left over gives users a formatted capacity of 111GB in Windows 7.
Is SandForce safe?
Patriot's choice of components suggests that the Wildfire will be one of the quickest 2.5in SSDs we've ever seen, but there is a cloud hanging over the second-generation SandForce controller.
The delay in launching drives equipped with an SF-2281 controller suggests that the route to retail hasn't been entirely problem free, and drive manufacturers continue to struggle with reliability. In recent months, Corsair has been forced to recall a faulty batch of Force Series 3 SSDs, and OCZ has quickly issued firmware updates for its Vertex 3 and Agility 3 drives to address frequent run ins with the Windows BSOD.
Reliability appears to be an ongoing issue, and the root cause is yet to be publicly identified. In an effort to allay any such fears, Patriot adds that its Wildfire drive ships with the company's latest 3.1.9 firmware, which it claims "has been found to be bug free". We've experienced absolutely no issues with our review sample, but there's no denying the fact that there's a lot of uncertainty surrounding the SF-2281 chip. Our advice to would-be buyers is to proceed with caution, but if you're confident in the technology, let's find out how fast the Wildfire really is.