Introduction
2010 has been a stellar year for PC hardware progression. Processors and graphics cards have pushed the boundaries on performance, but arguably the biggest steps forward have been taken in the world of storage.
In recent months, we've tested everything from super-quick solid-state drives to ultra-fast external storage solutions, but we'll cut right to the chase; as far as storage performance is concerned, we've seen nothing as impressive as OCZ's RevoDrive X2.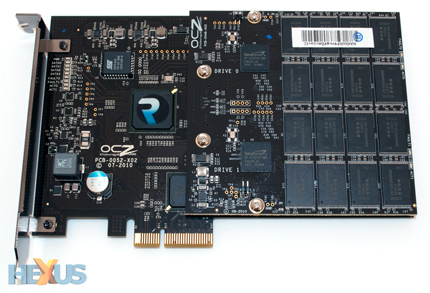 Launched at the tail-end of last month, the unusual-looking storage device arrives as a successor to the original RevoDrive and promises to raise the performance bar another notch or two - OCZ's claiming read and write speeds of up to 740MB/s and 720MB/s, respectively, while 4K random write performance is rated at an astonishing 120,000 IOPS.
And it's because of that desired speed that OCZ has sought out an innovative design. Avoiding the bandwidth limitations of both SATA II (3Gbps) and SATA III (6Gbps), the RevoDrive X2 aims to provide break-neck speeds by connecting to a PCIe x4 slot that's capable of up to 16Gbps.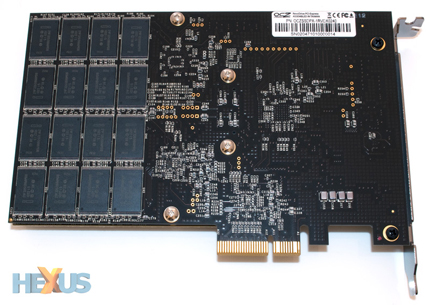 There's plenty of bandwidth on offer, and the RevoDrive X2 taps into it by utilising a Pericom PI7C9X130 PCIe-to-PCI-X Reversible Bridge chip that routes the signal to a Silicon Image SiI3124 PCI-X to 4-port Serial ATA RAID controller. It seems a little inelegant to use previous-generation PCI-X technology, but it's presumably cheaper than implementing a single PCIe 2.0 RAID controller.
The architecture thus far is practically identical to the original RevoDrive, but the X2 differentiates itself through a daughterboard that helps increase capacity and speed.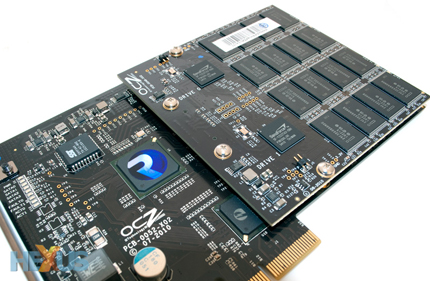 Attached to the main 181mm x 126mm PCB, the daughterboard facilitates a doubling-up of NAND flash memory and SandForce controllers - hence the X2 nomenclature. While the original RevoDrive featured two SandForce 1200-series controllers and capacities ranging from 50GB to 480GB, the new RevoDrive X2 provides exactly twice that; four SandForce 1200-series controllers and a choice of 100GB, 160GB, 240GB, 360GB, 480GB and 960GB capacities.
Our review sample - a 240GB model - comes equipped with a total of 64 Intel/Micron Multi-Level Cell NAND memory chips - 16 on either side of the mainboard, and a further 16 on either side of the daughterboard. Technically speaking, the RevoDrive X2 is essentially four 60GB Vertex 2E SSDs in a hardware RAID configuration. We know it's going to be quick, but there is a caveat; by utilising the Silicon Image RAID controller, the RevoDrive isn't able to offer support for Windows 7's TRIM command.
Instead, the task of keeping the RevoDrive X2 running at optimum speeds rests with the garbage collection algorithms programmed into each of the four integrated SandForce controllers. It's something of a long-term gamble, as we don't yet know how prolonged use will affect performance later in the drive's life, but the SandForce controllers appear to be doing a decent job - we ran our benchmark suite twice and didn't notice a drop in speed the second time around.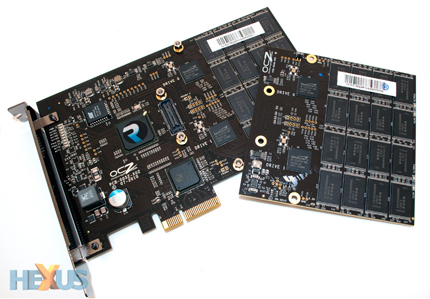 It's a tantalising bit of kit, but before you put it on your Christmas wish list, a word of caution: cost. The fact that this is four SSDs in a RAID config should have alarm bells ringing, but here's the skinny; prices start at £330 for the entry-level 100GB RevoDrive X2, and rise to £2,415 for the range-topping 960GB model. Our 240GB review sample fetches a massive £495 - that's just over £2 per gigabyte.