Introduction
The world's great rivalries include Man United vs. Liverpool, USA vs. the Middle East, blondes vs. brunettes and, more recently, QNAP vs. Synology.
The Taiwanese manufacturers of all things network-attached have long been vying for NAS supremacy both at home and in the workplace, and have in 2010 refreshed their SMB solutions with a new range of high-performance models.
Synology was first out of the gate with a revamped DiskStation, but whilst that outfit's solution impressed, QNAP is hoping to go one better with a new lineup of Turbo NAS Pro+ models that tout business-class features, high performance and low power consumption.
It's a heavyweight local derby, and to see who'll come out on top, we're pitting QNAP's two-bay TS-259 Pro+ against a rival we reviewed earlier; Synology's award-winning DiskStation DS210+.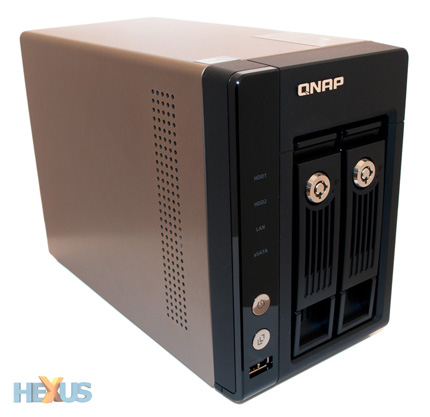 Priced at around £475, QNAP's latest two-bay offering is a pricey prospect, yet it doesn't appear to have changed aesthetically - the shell, save for a new bronze tint, visually resembles last year's TS-239 Pro.
Up front, you have access to the two slide-out, lockable drive bays, a power button, a USB copy button, a single USB 2.0 port and four activity LEDs; HDD1, HDD2, LAN and eSATA.
It won't be the most stylish box in the office, but it's subtle finish and compact 150mm x 102m x 216mm frame helps it blend in and go unnoticed. We'd argue that's exactly what a network-attached storage unit should do.
What's more interesting is what's inside QNAP's latest box of tricks. Powered by a 1.8GHz dual-core Intel Atom D525 processor and 1GB of DDR2 memory, it hopes to find a sweet spot between performance and low-power use, with QNAP officially quoting transfer rates of "up to 116MB/s".
Ease of use is also high on the priority list, and setup is very straightforward. The TS-259 Pro+'s hot-swappable drive bays slide out with ease, and both feature a metal bay that feels sturdy and well constructed. Each bay supports your choice of 2.5in or 3.5in drives - officially allowing for up to 4TB of storage - and both bays are labeled to prevent getting drives mixed up. Everything you need to get started, including a software disc, screws for hard drive installation, two Ethernet cables and a software disc, is included in the packaging.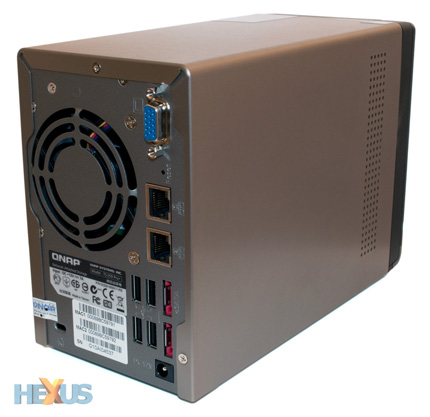 Providing a useful array of connectivity options, QNAP loads the rear of the device with a redundant VGA output (it's used for maintenance only), dual Gigabit Ethernet ports with support for load balancing, two eSATA ports, a further four USB 2.0 ports, a power connector for the bundled AC adaptor and a Kensington lock slot.
Both the USB and eSATA ports can be used to add external storage (though it isn't possible to add external drives to an internal RAID array), and the USB ports can also be used to attach a network printer.
The unit's cooling is provided primarily by a single 70mm fan, and it automatically adjusts its speed depending on CPU, hard disk and ambient NAS temperature. During use, we found it quiet enough to go unnoticed in an office environment, but you'll want to position it carefully at home - the constant hum of the fan accompanied by the regular shriek of hard-drive activity can be distracting in a quiet room.
The hardware's ticking many of the right boxes, and QNAP's extensive feature list is about as impressive as it gets. RAID modes 0, 1 and JBOD are of course supported, and RAID management is made easier with support for online RAID capacity expansion and online RAID level migration.
Targeting a business environment, the TS-259 Pro+ is certified as compatible with the VMware and Citrix virtualisation platforms, and it's also compliant with Windows Server 2008 Hyper-V clusters. Built in iSCSI target and initiator services are offered as standard, with the latter allowing users to add additional QNAP NAS products to the network to create virtual volumes.
Data security is well catered for, with support for AES 256-bit volume-based encryption, a dual-OS DOM design, and a comprehensive range of backup solutions including; cloud-based storage via Amazon S3, Windows NetBak Replicator, encrypted remote replication, one-touch copy to external drives and full support for Apple Time Machine.
Ensuring the Turbo NAS range remains up to speed, the latest release of QNAP's firmware also introduces the ability to mount ISO images as share folders, the option to attach numerous NAS devices to a single UPS, and support for Apple's HFS+ file system on external drives.
It's one of the most comprehensive feature sets we've seen on a two-bay NAS, and there's plenty to keep the home user occupied, too. Both an iTunes server and UPnP media server are integrated as standard, as is a new v2 release of QNAP's Multimedia Station. Tying into the growth of mobile multimedia devices, QNAP also provides apps for the Apple iPhone and iPad, both of which allow users to browse, play and sync media stored on the NAS.
The TS-259 Pro+ isn't short of functions, but what's it like to use?