Windows Media Center
Windows Media Center, first introduced as part of Windows XP Media Center Edition, has matured dramatically in recent years and has, in our estimation, become one of the single-best DVRs currently on the market.
Yet, despite its promise, the software remains something of a niche solution - those who use it swear by it, but the majority of those users, including me, remain geeks with too much time and patience.
The problem, it seems, is that Windows Media Center is a living-room solution - but the living room remains a territory in which PCs aren't common place. Hoping to offer a solution to that predicament, Microsoft in recent years introduced Media Center Extenders - set-top boxes designed to extend the Media Center experience from a PC to the TV. With little impact on the market, those Extenders have all but dried up and faded into memory - all except for Microsoft's own Xbox 360 console, of course.
So what can Microsoft do to make Windows Media Center in Windows 7 more appealing to the average user? First and foremost, it can make it available in a wider range of product editions. Think back to Vista and you might recall that Media Center was offered in Vista Home Premium edition, but not in Vista Business. This time around, Media Center features in all three of the Windows 7 product editions found on retail shelves; Home Premium, Professional and Ultimate.
Knowing that the vast majority of users upgrading to Windows 7 are soon about to have their hands on this excellent piece of software, here's what to expect.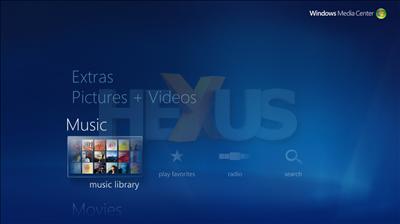 Load Windows Media Center and you're presented with a full-screen interface designed to provide easy access to multimedia functions such as Live TV, Music, Pictures and Videos. Similar, in a sense, to Windows Media Player, but remember that Media Center is created for use in a different environment - it's best suited to a big-screen display and designed to function perfectly with a remote control as opposed to a keyboard and mouse.
The first thing you'll notice is that the interface is gorgeous. Media Center has always looked good, but in keeping with 7's tendency to brush up on everything, it now looks better than ever. More importantly, it now performs better, as Vista's sluggish behaviour doesn't apply to 7 - the new Media Center is about as smooth as it gets and very, very fluid.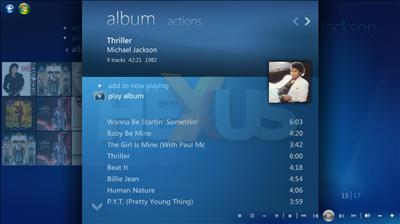 Browsing your music collection is a joy on a big-screen display, and 7's Media Center now allows you to rate songs (or any other media) at the touch of a button - useful when combined with the software's automatic playlists.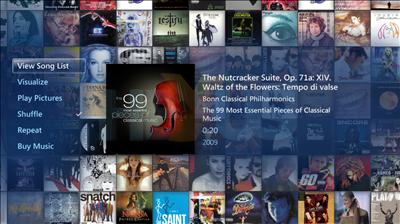 Start playing back a track and you're treated with a scrolling wall of images - all taken from the content in your library. Adding to the software's all-round usefulness, it'll playback all the same formats as Windows Media Player - ensuring popular formats such as H.264 are, for the most part, no longer taboo.
As far as music, pictures and videos/movies are concerned, there are few, if any, better-designed interfaces for the TV. Add a TV tuner to this mix and there's the option for top-notch DVR functionality.